Best Cheap EV Code Signing Certificate Providers in 2022
EV Code Signing certificate also known as Extended Validation Code Signing certificate secures software and app code with a highly secured private key that comes external device. We are sharing a list of cheap EV Code Signing certificate providers here. Compare and buy according to your need.
What is EV Code Signing Certificate?
A code signing certificate enables the user to verify the application or software publisher's identity, but an Extended Validation code sign or EV code sign adds a layer of verification.
EV code signing certificates help the certificate holder or developer of the application prove their identity and app code integrity to users.
CAs issue the certificate after verification of app publishers, with which a platform user gets assurance that the app's code is not modified. The verification process involves verifying the publisher's or organization's name, physical address, and business jurisdiction.
While in the normal code-signing process, the CAs validate the identity of app publishers, EV offers additional validation through the legal details of a business. However, extended validation is not the only benefit of EV code signing certificates.
List Of Cheap EV Code Signing Certificate Providers In 2022
If you are considering buying an EV code signing certificate, it is not just the price but the features provided by the CA that are equally important. EV certification has several advantages, and you must ensure that the code signing certificate covers all of them.
Below mentioned are the Cheap EV Code signing certificate providers
1. Comodo EV Code Signing Certificate @$225.00/Year
Comodo EV code signing certificate is one of the best options if you are thinking of EV certification. Comodo is a massive name in the code signing certification and the entire encryption-based security market. What makes it unique is extensive features like support for SmartScreen recognition that helps improve customer trust.
Comodo offers two-factor authentication for private keys, apart from the standard features offered by other cheap EV code signing certificates. This feature adds an extra layer of security to your code signing process. In addition, the Comodo EV Code Sign certificate offers an encrypted hardware token (USB token) to store keys and a PIN to sign the code.
Top Features of Comodo EV Code Signing Certificate
Private key stored in USB token.

Organization details and the publisher's identity is displayed on the certificate.

Support for Microsoft/Windows SmartScreen filter.

Issuance of the certificate within 1-5 days.

Supports all the major platforms like MS, Adobe AIR, Java, Mozilla, and others.

Helps in the creation of a secure distribution outlet.

2048-bit RSA signature key with 256-bit encryptions for your software.

Active monitoring of the software code integrity.

Validity up to 24 months.

30 days refund policy.

24/7 customer support.

Timestamping for extended validity of the digital signature.

Support for file formats like .exe, cab., .dll, .xpi, .xap, Mozilla Objects in both 32-bit/64-bit, etc.
2. DigiCert EV Code Signing Certificate @$549.00/Year
DigiCert EV code signing certificate provides the complete code-signing solution with standard features and unique tools to secure your applications. Moreover, the certificate provides security for private keys and two-factor authentication. Code integrity and security prevent malicious tampering with the application's code.
One of the essential features of this cheap EV code signing certificate is deciding who will have the authority to sign the code for your software. DigiCert certificate enables the installation of a certificate on hardware security modules (HSM).
Best DigiCert EV Code Signing Providers
Top Features of DigiCert EV Code Signing Certificate
Supports Microsoft Authenticode, Adobe Air, Java files and snippets, Apple apps, etc.
Reduces warning messages for customers and improves download rates.
Time-sensitive signing for extended validity of the digital signature.
Supports Microsoft Defender SmartScreen filter
There is no need to re-issue certificates for different platforms like MS Authenticode, Kernel Mode, etc.
30 days refund policy.
Support for all the file formats like, .dll, .exe, .xpi, .xap, .cab, and even Microsoft objects.
256-bit symmetric encryptions with 2048- RSA based signature.
99% uptime with dedicated customer support.
3. Sectigo EV Code Signing Certificate @$239.00/Year
Sectigo EV code signing certificate is an excellent option for software and app developers looking to ensure that their months of development efforts don't end up being a security nightmare.
It is a cheap EV code signing service provider with all the standard features you expect from a top-notch CA. In addition, due to physical USB tokens, your private and public keys stay anonymous, boosting the entire software's security.
Sectigo offers a cheap EV code signing certification and helps assert the publisher's identity among users through extensive verification as per strict guidelines. In addition, high-end code signing and hashing processes help app developers avoid exposure of software's source code to hackers.
Top Features of Sectigo EV Code Signing Certificate
Ensures that users can verify the software publisher's identity.
Extensive validations based on CA/Browser Forum guidelines.
Protects executables from modification by malicious attackers.
Prevent unauthorized and warning pop-ups.
Issuance in 1-3 days.
30 days refund policy.
2048-RSA-based digital signature with 256-bit encryptions for higher security.
Support for Microsoft or Windows SmartScreen.
Major file formats like, .exe, cab., .dll, .xpi, .xap and even Mozilla Objects in both 32-bit/64-bit are supported.
24/7 technical and customer support.
Supports primary OS and platforms like Mozilla, Microsoft, Adobe AIR, Java, etc.
Benefits of EV Code Signing Certificate
#1. Higher Security
Verification based on CA/Browser Forum guidelines makes certification legitimacy more trustworthy. Moreover, the private key is stored in a USB token/hardware security module that is not accessible to hackers. Thus, the privacy of a key is enhanced.
#2. SmartScreen Support
One of the significant advantages of using EV code signing certificates is the recognition from Windows Smartscreen for your software or app. Windows SmartScreen scans all the sites that users visit, and compares them with a dynamic list of reported malicious sites to determine their legitimacy. So, EV certification ensures that your web app does not fall into the list of malicious sites.
#3. Time Stamped Signatures
With the timestamping of EV certificates, the digital signature remains intact even if your certificate is set to be renewed. This process involves recording the time and date of certification on the timestamp server.
So, when the client receives the certificate, it checks whether a digital signature was assigned when a valid certification was issued or not. Timestamping does not let your code expire even if the certificate is expired and the code remains valid. Developers can provide a secure customer experience, and users can protect their data from unauthorized access or data thefts through legitimate software. Now that we know what an EV code signing certificate is, let us discuss how it works.
How Does EV Code Signing Certificate Work?
EV code signing certification begins with the generation of private keys through a cryptographic algorithm from CA. After extensive validation and verification of your organization's legality, CAs provide a physical USB token that stores private keys.
Hashing the software
Next comes the signing process, but you will have to hash the software before it. The browsers match hash values from a library or digest them with your software's hash value to ensure code integrity.
Hashing algorithms convert data or information stored in your software files into a string of alphanumeric values. Unlike the encryption process, these hash values are hard to break and can't be decrypted. Once the hashing is done, the signing process begins.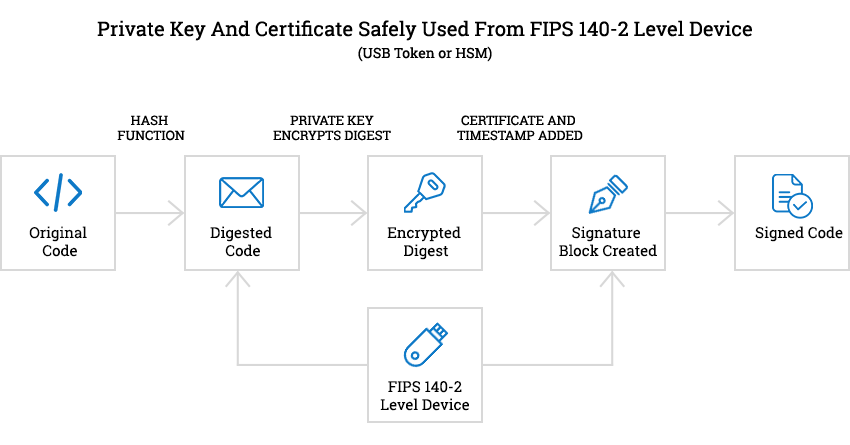 Digital signature generation
You will have to use the private key stored in a USB token for digital signing and timestamping for the signing process. A cryptographic algorithm digitally signs the hash value when the private key is received. At the same time, a timestamp server records the date and time for timestamping of the digital signature.
After the hashing, digital signature generation, and timestamping, your software is ready for download. Once a user downloads the software, browsers can verify the publisher's identity, check on the timestamp and match hash values to ensure the code is intact.
Now that you know the benefits and working of EV certifications, let's discuss some cheap EV code signing certificates for your software and apps.
Conclusion for EV Code Signing Certificate
So, here we are; after knowing everything about EV code signing certificates and discussing some of the best options, it is time to decide! However, which one to choose will always depend on the specific requirements of your application, which platforms you want to deploy, and what level of security you want. The best way is to analyze your needs and compare all the features with pricing to find the right choice.