Symantec SSL Certificates Review - Features, Price & Providers
After the invention of SSL certificate in 1994, the web world got a hope to secure the online platform against germinating threats and malware. Currently, many certificate authorities are in the process to provide most updated and robust security solution in the forming of the SSL certificate. Symantec is one of the authenticate certificate authority that has been serving thousands of organizations, financial industries, E-commerce business for a long time.
Here in this article we will provide you detailed information about 'Symantec SSL Certificates Review' that helps to understand Symantec SSL Products in better way:
Why Symantec is First Choice?

After the merger of VeriSign, Symantec has entered into SSL business. There are nearly 92% Fortune 500 companies and 93% worldwide financial institutions are using Symantec SSL certificates. The authority has built a robust trust among customers globally and serving its possible strength. The use of current protocols and algorithms (ECC and DSA) keep Symantec ahead of other competitors.
Symantec SSL Certificate Providers List With Starting Price
After considering different Symantec SSL products, let us aware you for Symantec SSL Certificates Best Provider List that helps to Symantec certificates at unbelievable low price. Let's have a look:
Symantec SSL Certificates Review - Why To Go With Symantec?
When you deal with Symantec products, you are not only gain trust and security, but there are other features too which are discussed as below:
Browser Ubiquity
Symantec SSL products are mostly suitable with all browsers and carry more than 99% browser compatibility whether users access website over desktop or smartphone device.
Strong Encryption
Products will be equipped with robust 256-bit encryption and SHA-2 algorithm that can provide protection to the transmitting valuable information.
A Single Account Management
Symantec gives a centralized SSL certificate management where a customer will have access to certificate renewal, order status of certificate, manage malware scanning, and reissue features.
Unlimited Server Licensing
Customer will have multiple year licenses with a single domain, which can be used for server backups, load balancing and SSL accelerators.
SAN Support
Symantec offers a single certificate solution that gets you rid of purchasing multiple certificates. Yes, with SAN support, people can add up to 24 additional domains.
Malware Scanning
Symantec provides a Norton Secured Seal-a malware scanning tool that keeps website clean from malware, threat, and vulnerabilities. A protected website drives more visitors to the website.
Besides the above features, Symantec also provides site seal, which is a backbone of certificate trust and reliability. So let us have a look upon them.
Most Renowned Site Seals:
Symantec generally provides two site seals: Norton Secured Seal and Seal-in-Search that provides additional surety to visitors and customers about the website's authenticity.
Norton Secured Seal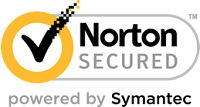 Across 170 countries, Norton Secured seal is displayed a billion times in a particular day over the website. Visitors like to browse and purchase from the website, once they see Norton Secured Seal on the checkout page.
Being an important facet, this site seal passes a strong message to customers and visitors that their online transactions are secure.
A website owner can place this seal on any page where visitors' assurance is necessary. This seal helps to drive more traffic to the website as it is a sign of trust and security.
Seal-In-Search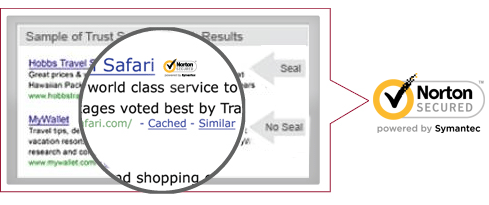 Seal-In-Search is placed next to the website link in a search engine which assures that the website is legitimate. It enhances more click-through, sales and conversion. This seal comes free with any Symantec product that you purchase. With the rise in identity theft and other attack, seal-in-search gives visitors and customers a kind of relief that they are going to visit a secured website.
Symantec SSL at Its Best:
After going through the various benefits, let us have a look at robust Symantec SSL products those are enriched with the latest security standards, features, and encryption strength. Few amazing features are listed below for each product that helps you to decide the product that suits your business need.
Symantec Safe Site
Daily malware scanning
Prevent threats and malware from infecting website
Prevent websites from being blocked in search engine
Symantec Secure Site
Highest browser compatibility
Multiple server licensing
256-bit encryption
30 days money back guarantee
Warranty of $1,500,000
Malware scanning
Symantec Secure Site Pro
2048-bit root certificate
SHA-2 algorithm support
Warranty of $1,750,000 by Symantec
9% mobile and desktop browser support
Full business validation
Symantec Code Signing
Verification of publisher identity
Different platforms covered: VBA and Office, Sun Java, Adobe AIR
Software code integrity and authenticity
Prevent software warnings
Symantec Secure Site EV SSL
Green bar to enhance security over the site
Multiple SAN supported
9% browser compatibility
Free Norton Secured Seal
Warranty of $1.75M USD by Symantec
Symantec Secure Site Pro With EV
Multi SAN certificate – Secures up to 25 domains
SGC enabled
2-3 days after issuance
9% browser recognition
256-bit encryption
Symantec Secure Site Wildcard
Unlimited sub domains security
Saving extra cost for additional SSL purchase
9% browser compatibility
30 days money back guarantee
Warranty price $500,000
Conclusion:
We hope Symantec SSL Certificate Review & the above comparison will help to select best Symantec SSL Certificates at cheap price from trusted ssl providers. Hardly you will find the above lowest price for Symantec products. So it is the right time to grab the product. Start to secure your dearer visitors and customers to your website with this awesome SSL product.