Symantec Secure Site Pro SSL Certificate - Advantages And Top Providers
Many of us are hardly aware of the fact that SSL Certificate is issued on the base of Validation types. There are mainly three types of validation I.e. Domain Validation, Organization Validation and Extended Validation. But we are least aware of Organization Validation SSL Certificate. Among all these validations, Organization Validation is the second most important certificate. It provides instant identity confirmation and strong SSL protection to your website and business. It activates the browser's padlock, shows https and the corporate identity. The site visitors get the assurances that they are not using any fake website and their sensitive data is safe and secured.
About Symantec:
Founded in 1982, it is one of the global leader in cyber security and working in more than 35 countries across the world. It operates one of the world's largest Cyber intelligence networks and protects more customers from the next generation attacks. It has been long in this industry and serving many government bodies, individual, big and small organization by its best SSL product. Symantec provides a wide range of SSL Certificates, which includes Secure Site SSL, Secure Site Pro SSL, Secure Site EV SSL, and Secure Site Pro EV.
In this article, we will discuss in depth about one of the finest product of Symantec i.e. Symantec Secure Site Pro SSL Certificate.
Symantec Secure Site Pro SSL Certificate: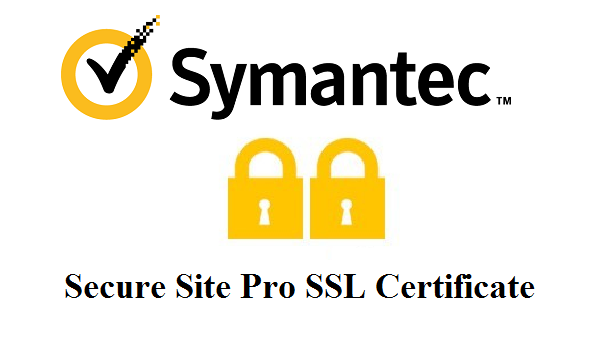 Symantec Secure Site Pro is an SGC-enabled certificate and it provides strongest 256-bit encryption and 2048-bit CSR encryption. It brings business validation procedure and verifies the organization authentication and domain ownership as a result, customers will enjoy the robust security for their online transactions and other confidential credentials. It protects our website from cyber-attack and malware by providing strongest SSL encryption.
Key Benefits of Symantec Secure Site Pro SSL Certificate
Single Solution in one SSL Certificate:

Symantec secure Site Pro not only includes SSL certificate but also gives the advantage of daily website malware scanning and defend against any kind of attacks.
Trust mark:

It is a worldwide fact that Norton Secured Seal is the most trusted mark on the Internet. Symantec Seal-in-search displays the Norton Secured Seal next to your link on browsers enabled with a free plug-in as well as on partner shopping sites and product review.
Full business authentication:

It verifies the business identity and domain ownership.
Customer Support and Online management:

It provides the excellent customer support and the Symantec Trust Center gives you better visibility and control of your SSL certificates and services. With just a single sign up, you can easily renew, upgrade, buy and activate services or access a backup.
Universality:

This certificate carries highest browser compatibility with mobile and all browser, so the customer will never face SSL connection warning on a site.
Supports:

This Certificate supports DSA, RSA and ECC algorithms for better security prospects.
Cheap Providers of Symantec Secure Site Pro SSL Certificate
To survive in the race of SSL Certificate, many trustable resellers offer the cheapest price for Symantec Secure Site Pro SSL Certificate. They will give huge discounts or coupon code to the potential customer. Below table summarizes the cheapest providers of Secure Site Pro SSL Certificate.
Conclusion:
The above certificate is ideal for those organization and business who wants to show their business/organization identity on the internet and assured their customers that how much they take care of their credentials. The above coupon code will help to buy the Symantec Secure Site Pro SSL at the lowest price and that too from trustable SSL providers.