Top 7 Cheap Multi Domain SSL / SAN Certificate Providers For 2022
Multi Domain SSL certificates protect multiple domains under one certificate. The certificate is also called as Subject Alternative Name (SAN) SSL, suitable with shared hosting and offers a cost-saving solution for SSL seekers. A SAN certificate allows you to secure a primary domain and up to 99 domain names with a single certificate.
After deciding to go with it, you generally search for a cheap price for it, which saves your money. And, it is the answer to both of these questions 'Are you worried about securing multiple domains on a single server?' & 'Do you have a limited budget for SSL?'.
SAN SSL certificate requires a single IP address and secures up to 100 domains which get website owners rid of extra money to be spent for the individual SSL certificate. If you select a reliable SSL provider, then you will find 24/7 support for installation, renewal, and certificate management that will help you to choose the best multi-domain SSL certificate for your website.
We will also go to focus on top & cheap multi-domain SSL providers in this article.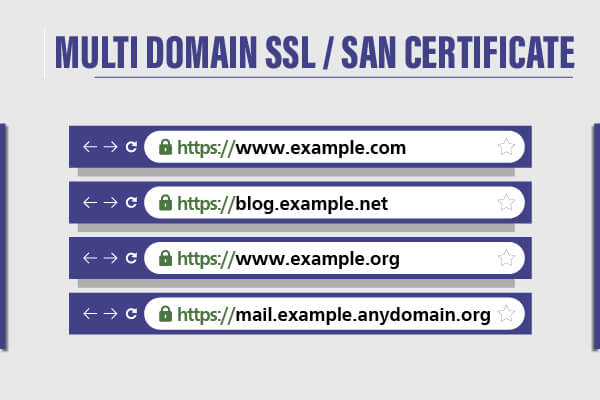 How Does Multi Domain SAN SSL Work?
Once you buy Multi-Domain SAN for your main domain (for example www.example.com), then the certificate allows securing different domain names, sub-domain of your main domain, local test server as displayed below.
example.com
www.example.com
example.org
login.example.co.uk
Multi Domain / SAN Certificates - Benefits
There are ample of benefits associated with these certificates, few of them are discussed below:
Saving your cost is a primary benefit linked to the multi domain certificate as there is no need to take another SSL certificate for your multiple websites. It saves money and time to install individual SSL on your server.
Protect Multiple Domains:
No need to go for an additional SSL certificate as you can secure multiple domains on a single SSL certificate whether it is a subdomain of your main domain, local server or an individual domain. To get the benefit of multi-domain security, you need to select the number of additional domains that you want to secure with the main domain while purchasing multi domain certificate.
Simple certificate management:
As there is no need to go for the second SSL certificate, a website owner can easily manage a single SSL expiry, renewal, installation. Therefore, there is hardly a chance of missing the expiry of your SAN SSL.
Highest Browser Compatibility:
SAN SSL Certificate comes with more than 99% browser compatibility whether it is a desktop or mobile browser; there will no issue of performance lagging or security warning in the browser.
Where can you find Cheap Multi Domain SSL Certificate Providers?
There are several SSL providers, including certificate authority out there in the market, but by digging deeper, you will find a huge difference in their price level because SSL providers buy SSL certificates in bulk from the certificate authority. No need to worry about SSL quality because it is the same SSL certificate which authorities are providing you.
Here we will help you to find the cheapest and trusted Multi-domain SSL certificate that can fit in your budget.
Below is a list of multi domain certificates of most reliable certificate authorities like GeoTrust, Comodo, SSL.com, Digicert, Gandi with coupon codes, and discount offers which will make your purchase economical.
Multi Domain Certificate FAQs
Q1. Can I secure multiple domains under a single multi-domain SSL?
Yes, you can secure up to 100 domains and subdomains under a single multi domain ssl.
Q2. Can I add wildcard domain in multi-domain ssl certificate?
You can add wildcard domains as SAN. To secure the whole wildcard domain & its all first-level sub-domains, multi-domain wildcard SSL is the solution that can secure different wildcard domains and subdomains. You can secure multiple wildcard domains in this single certificate.
Q3. Can Multi Domain SAN certificate installed on physical servers/multiple IP addresses?
Most Multi Domain (SAN) certificates can be installed on a physical server, multiple domains, subdomains, multiple IP addresses, and multiple servers if certificate supports unlimited server license features.
Q4. Is there any difference between the UCC certificate and multi domain certificate?
UCC SSL certificate is ideal to support multiple domains that work on Microsoft Exchange and Office Communications Server (all versions) such as Outlook, Live communication, as well as MS office environment. On the other hand, multi domain certificate is used to secure multiple domains running on all servers.
Q5. Will I get Secured Site Seal along with multi-domain certificate?
Yes, a secure site seal comes with multi domain SAN cert and you can place it on your main domains as well as SAN domains too.
Q6. Can I remove SAN domains once the certificate is issued?
No, it is not possible to decrease the number of SANs or remove them but, you can change their hostnames with reissue options. Alternatively, if the purchased SAN SSL certificate falls under 30 days refund policy, you can cancel the current certificate and request for a new multi domain SSL certificate.
Q7. Does Multi Domain certificate allow you to add SAN during Renewal?
You can add more or few SANs before renewing the SAN certificate by purchasing extra domains. Else, you can reissue multi-domain certificate and purchase more SANs at that time.
Top Multi Domain / SAN Certificate Brand Review:
Multi Domain Cert Tools:
Conclusion:
The basic motto of the Multi Domain/SAN certificate is to save money and provide the utmost security to the website owners. The above comparison table will help you to find a suitable multi-domain SSL that can secure your multiple and sub-domains of the main domain.