How Can Solve "Your Connection Is Not Private" Error In Chrome?
Browser warnings are much annoying especially when the message states that your private information is at stake. In this internet age, privacy and security are main two concerns for every web user. People usually feel bad when see one of server browser warnings in chrome is "Your connection is not private". Your all eagerness in browsing will fade away when you frequent encounter with such warning. Generally, when you encounter such warning, you close the browser and will find solution in troubleshoot. However, we brought solution of this browser warning, "Your connection is not private" and provided steps to get rid of it.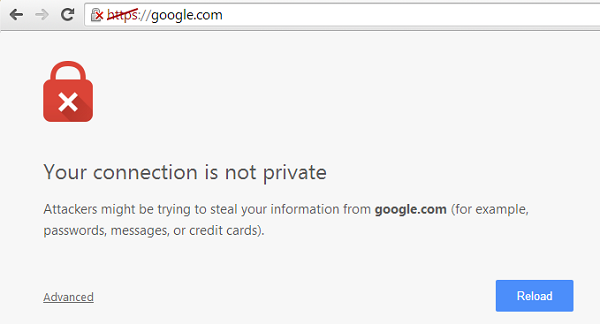 What is "Your connection is not private" warning?
When you face "Your connection is not private" or "NET::ERR_CERT_AUTHORITY_INVALID" or ERR_CERT_COMMON_NAME_INVALID in chrome browser, it is an SSL (secure socket layer) error.
NET::ERR_CERT_AUTHORITY_INVALID :
The first error means that legitimate certificate authority has not issued the certificate it may be self-signed certificate. When you click on error code, it will show details of certificate like certificate issuer, expiry date, and CSR. Further, click on "Advanced" link, where it shows that the security certificate is not trusted by your operating system as well attacker might be trying to steal your information.
ERR_CERT_COMMON_NAME_INVALID :
The second error means that the name of the certificate does not match with the site URL that you are visiting. When you click on advanced link shown in warning, it further states that the server could not prove the exact name and perhaps there is a misconfiguration issue or an attacker is trying to intercept the connection.
How to Solve "Your connection is not private" Warning?
Whether you are on desktop or mobile browser, when you encounter with the above errors, you can try the following tips to get rid of it.
For Desktop :
1. Login to the Wi-Fi Portal :
Login to Wi-Fi portal (if connected) and browse any site with http:// at the beginning.
The page of portal should be reloaded.
Login to the Wi-Fi portal to access the internet.
2. Incognito Mode :
Chrome browser allows users to surf in incognito mode that hide your identity. If the incognito mode works in a better way, it means that there may a bad extension causing error, which you have to remove it.
3. Update Windows :
Microsoft releases frequent updates for operating system and security purpose. Keep your computer updated with the latest patches and updates.
4. Turn off Antivirus Temporary :
Many antiviruses come with HTTPS scanning or protection that prevents browser from loading SSL secured page. If it is so, turn off this feature and see if the warning is removed or not. If the issue is solved then turn antivirus on again.
For Mobile Device :
If the warning appears on mobile device, you should follow below steps to avoid it.
1. Login to Wi-Fi Portal :
Browse any site that starts with http:// web address.
Reload Wi-Fi portal page.
Login to the Wi-Fi portal to access the internet.
2. Turn off Mobile Antivirus :
You need to check mobile antivirus program as few antivirus programs block website security certificate which resulting into SSL error. First turn off antivirus, disable feature (HTTPS scanning) in mobile antivirus, and once the issue is solved, turn on the antivirus.
If the above steps do not give solution, you can take help of Chrome Help Forum for further assistance. Instead of using self-signed certificate, you can buy legitimate SSL certificate at high discounted price that will not only provides safe browsing but also provides authenticity to your website.