How to Fix ERR_CERT_AUTHORITY_INVALID SSL Certificate Error?
ERR_CERT_AUTHORITY_INVALID SSL Certificate Error occurs when you try to get a secure connection in the browser for your website but the browser can not verify the website's Secure Sockets Layer (SSL) certificate.
Why "NET::ERR_CERT_AUTHORITY_INVALID" Error Occurs?
There is one possible reason that may be causing this error to occur. The first reason behind this issue is when the SSL Certificate for your website has been issued by a certificate authority that is not a trusted one. The second cause for the error can arise if the website is secured by using a self-signed certificate.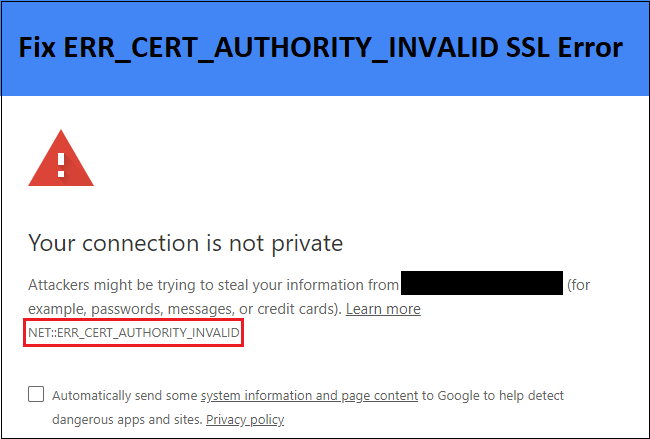 How to Fix NET::ERR_CERT_AUTHORITY_INVALID Error?
From the above reasons, you should buy SSL certificate from a trusted provider as such certificates carry 99.9% browser compatibility. If you face this error after getting a trusted SSL certificate, then you can try the following recommendations to fix this error.
There are several essential troubleshooting procedures that can be applied to solve this problem. It is, however, important to try the following before moving on to the main procedures:
You should use another computer, if you own one, or use that of your friend to try and visit the same site that has the error occurring. Doing this will help you ascertain the main cause of the issue and find out if it is your Internet Service Provider that has been blocked. It will also know the appropriate step to take.
Try disconnecting the VPN connection if you have one.
In case you have a firewall connection, then you should try disabling it.
If any of these procedures do not work out in solving the error, then you should go for the following steps to fix the SSL certificate error:
Check the Date and Time to ensure that they are properly set
One reason that may lead to the occurrence of this error is the inappropriate date and time set on your computer. It is, therefore, crucial to ensure that the date and the time on your computer are correctly set. This can help to rectify this error.
Check the setting of the Firewall
In a situation where you are filtering the internet traffic by using an antivirus program or firewall from a third party, you should try to temporarily disable the internet connectivity of the web. You can as well disable the HTTPS scanning or the HTTPS protection feature. You should disable the HTTPS scanning feature especially when you are using AVAST antivirus. In a case when you are using BitDefender antivirus, then you must disable the scan SSL feature.
Change the DNS settings
Another way to rectify this error is to change the DNS settings. This is done by using the public DNS server. The following is how to go about in changing the DNS settings:
First, you must go to the taskbar and right-click on the icon indicating Active Network. You can also head to the control panel of windows and click on the icon: Network and Sharing Center.
Select the active network card click on the icon indicated as Change Adapter Option
On the Active network adapter, you should select the Properties option.
Different items will be displayed after clicking on this icon. You should then click on the one that is indicated as Internet Protocol Version 4 (TCP/IPv4)
You should then click on the radio button indicating "Use the following DNS server address. You then should input the following Google's public DNS server's addresses. 8.8.8.8 and 8.8.4.4
Click the OK key and restart the computer.
Scan your computer to establish if there are Malware or Viruses
Malware and viruses are a major cause of the occurrence of this error. It is therefore very crucial that you ensure that your system is free from any form of malware and viruses. You should frequently do scans to your computer to ensure that it is safe from this kind of issue. After this, you can go ahead and apply other troubleshooting procedures that have been mentioned above.
Completely Uninstall and Install Chrome on your Computer
Lastly, you should consider uninstalling and installing the Chrome browser for your computer. There is a particular procedure that you should follow to completely uninstall Chrome from your computer. You should then install it back and visit the site again.
Summary
Websites are a perfect way that you can use to offer and market your products to your customers. The ERR_CERT_AUTHORITY_INVALID SSL Certificate Error, you will be faced with when you have a website & it is not secured with trusted certificate authority SSL certificate such as Comodo, Sectigo, etc. But from here, you have learned about how you can solve it when such an error occurs.