Symantec SSL Certificates Alternatives
News about Symantec Website Security Business, Symantec SSL certificates distrust deadline (August 8th, 2017) is coming closer and all other SSL certificate authorities are keenly attracting customers of Symantec including GeoTrust, Thawte, and RapidSSL brands. Other providers are making every efforts to switch them as their potential customers. As well Symantec customers and partners, retail or enterprise customers are already aware of the action and seeking for the alternative reliable provider of certificates.
Best Alternatives of Symantec SSL Certificates: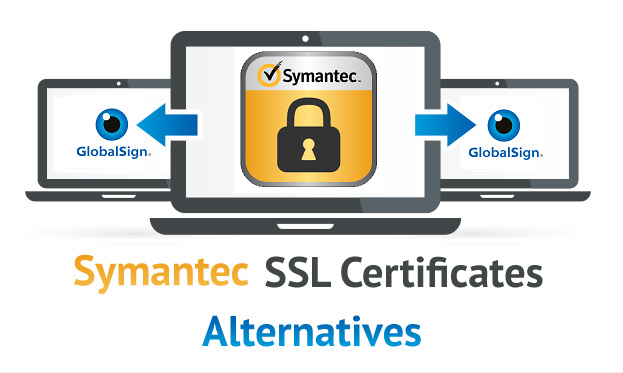 How Feud begun?
SSL industry has been talked since last few months due to the dispute between the browser communities (Google and Mozilla) and Symantec authority. The issue was between Symantec and its registration authorities (RA) who are partners of Symantec and handle certificate validation in different regions.
The feud began on March 23 when Ryan Sleevi, a software engineer at Google published a proposal that felt everyone to take away interest in Symantec SSL certificates. The proposal was obviously against Symantec web security business.
What Google proposed to Symantec?
Let us see what proposal included that compelled SSL industry to think about web security. To be precise, the main conditions of Google's proposal are as follows:
Over a period, Symantec would require reconfirming and reissue earlier issued certificates.
The validity of newly issued Symantec certificates should be reduced to 9 months.
Symantec should remove Extended Validation (EV) conduct of its certificates for at least one year.
What Symantec Said?
Symantec opposed Google's step towards the mis-issuance certificate. Symantec believes that the action is inappropriate and exaggerated; the authority also thinks that Google claimed about to issue 30,000 SSL certificates by Symantec is not true. However, there were 127 certificates were found miss-issued but not such a large amount of certificates as well that miss-issued certificate had not harmed customers. However, Symantec has followed the strict action by terminating registration authority program and partner's appointment as the registration authority.
Symantec also added that the authority maintains the rules prescribed by CA/B forum and NIST. To strengthen CA practice, Symantec control SSL issuance as well committed to internet security. Symantec insisted its customers to remain trust in its SSL certificates and the authority ensures that they are open to discuss with Google to resolve the situation.
How does it affect?
Google dispute about distrusting Symantec, Thawte, RapidSSL Certificate and GeoTrust SSL Certificates still make confusion. For Symantec customer in case of acceptance of Google's proposal, any Symantec certificate holder needs to reissue and reinstall certificate. As well, if a customer has purchased certificate more than 9 months then the rest money for extended validity will be of no value.
If the customer has Symantec Extended Validation certificate, then it is ideal to move on other certificate authority for upholding trust on the Internet. Therefore, the customer has to find new certificate authority and follow again the process of purchasing Extended Validation certificate means the waste of money and time.
If we see in other direction, Google is encouraging HTTPS for every website, offers ranking benefits for websites in search engine. On another side, such issues create distrust in people's mind, which is a worry situation for SSL industry.
What may People have an opinion about this Feud?
People have mixed opinions on this incident. Companies who have trust can stick with Symantec but other who have been influenced with this feud may move to other Certificate Authority. We cannot blame either Symantec or Google, we can just believe for not being a part of it.
What could be the solution?
The solution of this feud is only to move together to instill trust in SSL certificate for even a non-professional. The nine-month validity is irregular time and may cause a competitive disadvantage for Symantec and its customer will suffer due to this feud. Moreover, other organizations and individuals will have a negative impact.
In addition, Google's goal to secure the web with HTTPS would be affected by this claim. This feud is against not only Symantec but also indirectly pointing to every individual or business that believe in online security and wants a better and secure world ahead. Let us sit and talk and make this wonderful web more secure against rising cyber crime.