Cloud Computing Service Models: Which One Suits You?
Introduction:
Cloud Computing empowers a quick and flexible way to meet up the technology requirements of your organization. It depends on sharing computing resources (everything from applications to data centers connected to the computer) instead of using local server or personal devices. Cloud Computing offers a feature to access a single server to get and update the data without any licenses for different applications.
What is Cloud Computing?
Cloud Computing is a term involves a number of different devices (desktop, laptop, smartphone, servers) that are connected to the network (internet), which allows centralized data storage and online access of computing services. A user can get ample of network storage space and gets freedom from managing in-house hardware and software infrastructure.
To access Cloud Computing, the user needs only an internet access and device like smartphone, desktop, laptop. Virtualization, easy sharing of information, low price and high-speed internet access has made the Cloud Computing concept alive in the IT world. It focuses on maximizing the efficiency of share resources along with reallocates them as per user requirement.
Yahoo, Gmail, Hotmail are some great examples of Cloud Computing, which needs no installation, but only needs an internet connection where you get limited space and resources to operate it. As a user, you can access your email at anytime and anywhere without taking computer with you.
Cloud Computing Characteristics:
Cloud Computing carries some common features whether you go with a public cloud, private cloud, community cloud or hybrid cloud. Basically cloud-hosting package comes with the following characteristics.
Elasticity: The cloud should be elastic or flexible means resource allocation can be small or big depending on demand. The cloud provider must have to meet customer's requirements. Elasticity and scalability ensures that the application will have relentless availability whenever the user needs.
Self Service: Cloud Computing offers on demand self services. For instance, Amazon, Google, Microsoft, IBM. Mostly cloud services are offered through a web based self-service portal. It assures that the cloud service will be available when a user requires it and the user can control and operate the service easily. The user can obtain, deploy and configure cloud service without any assistance.
Resource Sharing: Computer resources are shared to attend multiple consumers with a located on different places. This feature is helpful for businesses that have multiple offices, field service or sales teams that stay outside the office.
Measurement: The client and cloud provider can calculate and check storage levels, processing, bandwidth, and user accounts and billing. It offers transparency for both the client and the service provider. Cloud Computing works on a pay per use method.
Broad Network Access: Cloud Computing offers a single web access point which enables business team to access the information via their smartphone, laptop, tablets,computers. With this offline feature, employees can do their work sitting at different locations. Broad network access includes private cloud, public cloud and hybrid cloud.
Service Models of Cloud Computing:
Cloud Computing has different service models (IaaS, PaaS, SaaS), which applies Cloud Computing components across a vendor's network. The service models include features like accessibility even for small business, large scalability, multiple sharing among users and device independence.
Now, take a look at Cloud Computing service models in detail.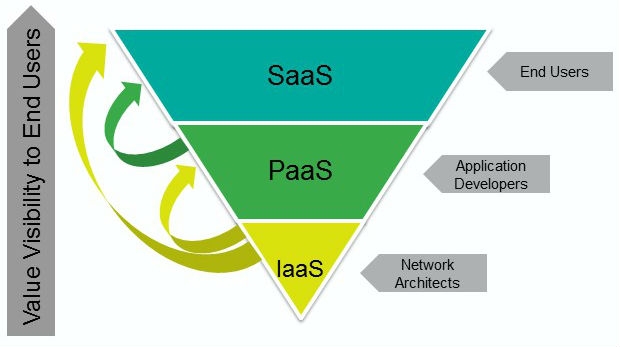 IaaS (Infrastructure as a Service): IaaS provides third party service provider hosts virtualized computing resources. The third party provider hosts infrastructure components as well as hardware, software, servers, storage on behalf of the client. Besides it, the service provider of IaaS also takes care of system maintenance, backup and resiliency planning. This type of service model is suitable for a workload that is temporary, frequent changes or for experiment. IaaS offers utility computing service, billing model, automation of admin task, desktop virtualization, policy based service, internet connectivity. The service provider offers a guarantee of a certain level of performance in IaaS model. Amazon Web Service (AWS), Microsoft Azure, Rackspace, Google Compute Engine (GCE) are examples of IaaS service.
PaaS (Platform as a Service): The PaaS model offers a computing platform that includes OS, programming language, database and web server. This model does not require any download or installation of software. It considers application design, development, testing, deployment and hosting. A PaaS provider hosts hardware and software on own system and frees user from in-house hardware and software designed to develop application. The service provider offers all types of necessary tools, hardware and software, a user has to login the platform via web browser. For this, the PaaS provider takes charge base on usage or monthly flat fee. The characteristics of PaaS include ease of use, simplicity, automation, multi-tenant architecture, and easy integration with web services and database. The main difficulty in PaaS model is if the provider shuts his business then your data and the application will be no longer. AWS Elastic Beanstalk, Windows Azure, Google App Engine, Apache Stratos are some examples of PaaS service model.
SaaS (Software as a Service): SaaS refers to software distribution, in which user can access the application via the internet. SaaS model offers benefits like easy management, auto updates, same software version usage and global accessibility. When the software is hosted offline or when the hosting service tries to change it, the customer does not have to maintain it. SaaS is a common model used in business applications, office & messaging software, CAD software, DBMS software, CRM (customer relationship management), HRM (human resource management) and MIS (management information system). Google Gmail, Microsoft 365, Salesforce, Citrix GoToMeeting, Cisco WebEx are few examples of the SaaS service model.
Conclusion:
Cloud Computing has turned out to be a major technology trend and experts anticipate that this technology will reshape IT procedures and the marketplace. Cloud Computing offers benefit like elasticity, pay per use and self-service provision. This technology provides more efficient computing by incorporating storage, memory, processing and bandwidth.