CyberSecurity Tips During Coronavirus Pandemic
Cybersecurity is a major concern during this Coronavirus Pandemic. People are staying at home; stores are still closed, and companies are making pivot changes by turning office-based work into work from home setup. The world is in a new state. Many countries are adopting these changes caused by the COVID-19 pandemic.
Cases are still soaring; there are already about 6.3 million cases reported in the whole world. Nearly 213 countries and territories are affected. As the health threat continues to rise, many businesses or even individuals staying at home and doing most transactions online may face new perils in cybersecurity. While the rest of the world has completely shifted, cybercriminals do not. No pandemic can stop them from doing their ill works.
Working from home, shifting brick and mortar stores to online selling activities, and adopting online payments may face many cybersecurity challenges. To prevent being compromised, employees, businesses, and any individual doing a transaction on the internet these days should follow cybersecurity practices to avoid being susceptible to these attacks.
Here are some cybersecurity tips that you should know to make you, your company, or your online business safe from any cyber attack during this COVID-19 pandemic.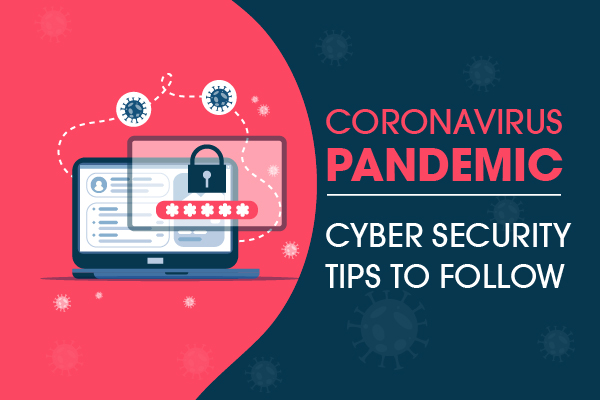 CyberSecurity Tips You Need To Know During Coronavirus Pandemic
1. Always Have A Strong, Unique Password
Even before the pandemic, experts can't stress enough the importance of having a strong, unique password. People are spending a lot of time on the internet these days, either for work or for leisure. With the number of people online and accessing several accounts, hackers find this as an opportunity to find weak passwords that they can try to copy to access accounts. Having a long and complex password is a must to counter these cyber-attacks. Create passwords that will make it hard for cybercriminals to guess or crack.
While it is very beneficial to use these kinds of passwords, especially for your cybersecurity essentials, you may have a hard time remembering it. But password managers are available in the market today to generate strong passwords. Aside from helping you manage your password keys, it can also generate long passwords that contain letters (capitalized and lowercase), special characters, and numbers that you can use to secure your accounts.
2. Use Trusted Antivirus
Another thing in cybersecurity that experts are always emphasizing about is the installation of antivirus in your computer. Whether you run a business or shifting your business design to work at home from your corporate office setting, it is vital to have an installed antivirus in your system. It is also essential to ensure that your antivirus software is always up to date, so there will be no loopholes that hackers can infiltrate.
3. Bank On Two-Factor Authentication
You can never go wrong with adding another blanket of security to your system. Having 2FA or two-factor authentication is an extra step you can take or require of your employees for data security. It is essential, especially for those who are working at home as it is a fundamental tool in enabling cybersecurity and protection from any possible attacks.
When using a 2FA, you will be required to authenticate your identity after entering your password. You'll either receive a code in your phone or a link in your email. This feature will stop any cybercriminals who might have access to your password but surely will not have access to your phone or other emails.
4. Use a Strong VPN
If you are running your business remotely, it is recommended to use a Virtual Private Network (VPN) for your whole team as part of your cybersecurity initiatives. This service is one of the most excellent tools you can incorporate as you shift towards the new normal for your business and your team.
However, you have to make sure that you adopt security blankets in your use of a VPN. Use a secure authentication method for your VPN and update your password regularly. The same rule should apply to all your employees.
5. Protect Your Mobile Devices
Many health doctors have raised the thought that your mobile phones or smartphones can be a carrier of any virus during this pandemic. It can also possibly get an online virus if you do not protect it and might put your credentials at risk.
Be it for work, study or entertainment; some people are entirely reliant on their mobile devices. Mobile phones and smartphones are widely used to connect to their loved ones, monitor employees, and do transactions like payment or online banking. As you do this, it is essential to have security apps on your phone.
6. Cover Your Webcam
The new normal for meetings these days are through video calls and teleconferences that involve the use of a webcam. While a webcam is essential not just for work but also to connect with family and friends during this COVID-19 pandemic, you should be aware that cybercriminals can access your webcam without your permission. This attack will compromise your privacy and security, especially if you have sensitive information in your physical location.
Remember always to unplug your webcam device if it is not connected in your computer and take precautions to cover it if your webcam is built-in in your laptop or desktop computer.
7. Update Your Operating System
While it is a must to update your antivirus, you also have to remember to update your software. When your software is out of date, it can serve as a loophole to your entire data as it can hide unpatched security holes and bugs. Once your operating system gets infiltrated, hackers and cybercriminals can easily access any of your data and confidential information that they can use for their harmful activities.
8. Tighten Online Banking Security
During this coronavirus pandemic, people are always asked to stay at home. This drives the use of online banking transactions to rise. Either you are managing your account or some of your business accounts, you have to make sure that your finances are safe even if you conduct a dozen online transactions per day.
Use only credited software and services that you are familiar with. If you are trying out a new money service for the first time, make sure to check on reviews and information about the particular service. If you will have to access a banking website, only log in via a Secure Hypertext Transfer Protocol (possible through SSL Certificate) or a URL that has https:// in the beginning. Tighten your passwords and if possible, use a verified fingerprint to log in.
Conclusion
Despite the ongoing crisis brought about by the COVID-19 pandemic, hackers will not take their time off in doing the harmful activities and cybercrimes. They will see this Corona Virus pandemic as an opportunity to infiltrate and hack any unguarded or weak system that they can find.
For you to make sure that you will not fall as their victim, tighten your cybersecurity, and make sure that you are always vigilant. Now is not the time to be complacent with your cybersecurity. Always keep in mind good cybersecurity practices to fight any impending attacks you might find yourself into.
Author Bio:
Ramon's interests involved anything about technology trends, entertainment, and gaming. Ever since he left the busy world of corporate HR Tech behind, he writes about software and user experiences for Softvire Australia - the leading software e-Commerce company in Australia and Softvire New Zealand.