Data Breach : Prevent Before It Happens
Data breach occurrence has made a huge impact on customers' psychology and compelled them to think over their data security. Symantec in its privacy report 2015 states that around 59% responders have experienced data safety concern in the past. The issues reflects upon different aspects of cybercrime starting from stolen bank details, email hacked, social media hacking, identity theft, infected with virus, phishing etc.
Now very firstly let's know about what is data breach, then will look at causes and prevention tips of data breach.
What is Data Breach?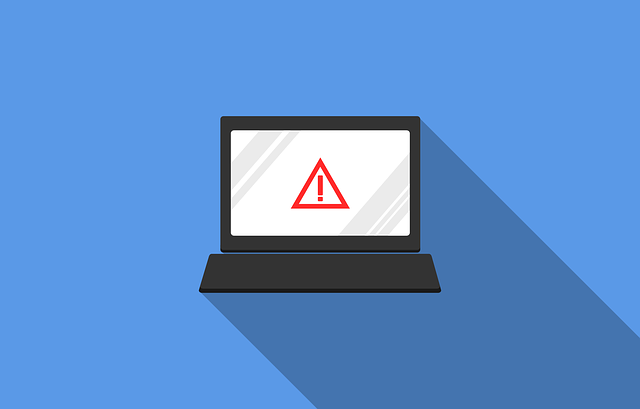 Image Credit: Pixabay
Data breach is an illegal access to the system or device in which an intruder tries to steal or view sensitive or confidential data in an unauthorized manner. The data breach may include personal identifiable information, business secrets, intellectual property, health records or any other confidential information.
What Causes Data Breach?
The main cause of data breaches are attackers, accidental data exposed, data theft and insider theft.
If we look at the Symantec report, 49% data breaches happen due to attackers while 22% data breaches happen due to accidental data exposed (human errors). Besides, DDoS attack, payment card skimmers, web app attack, cyber surveillance, POS intrusion are also main causes for data breaches.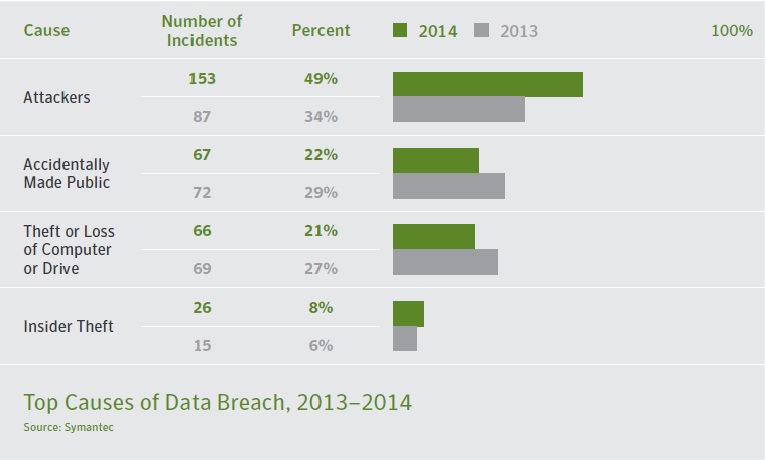 The weakest link that causes data breach is a human tendency because many users ignore the pop-up or warning message appear on their device and continue browsing malicious sites or download software from unknown sites.
Some Facts about Data Breaches:
In 2015 Symantec Internet Security Threat report, if we compare data breaches happen in the last two years, we can see down trend in exposed identities (552 million in 2013 against 348 million in 2014). The main reason behind this drop is awareness of organizations.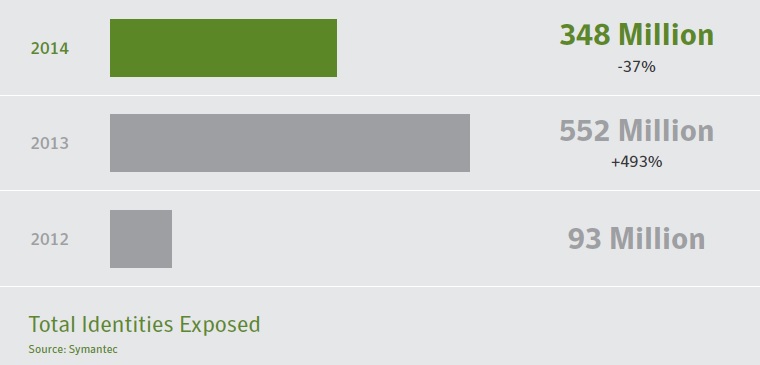 There is a spike seen in Ransomware that grew 113% in the year of 2014.
In 2014 the highest affected industry by data breach is health care, stood at 37% ratio. While the retail industry (11%) and education (10%) are main victims of data breaches.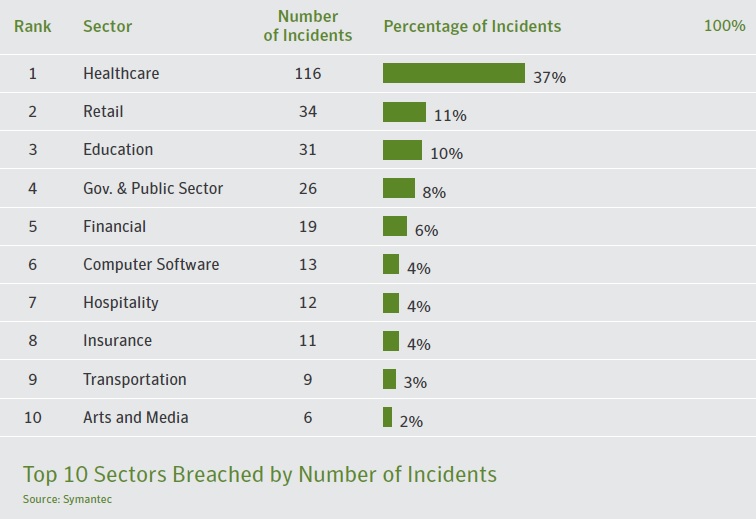 Around 20% companies did not report about the data breach and if we see, there are 312 data breach incidents recorded compared to 253 incidents recorded in 2013 year.
Retail industries have highest identities exposed in 2014, which recorded at 59% of the total numbers of identities exposed.
If we look at the types of breached information, there are real names, Government ID numbers, home address, financial information, birth date, medical records, phone numbers, email address, user name, password, and insurance records exposed in data breaches.
Two Big Concerns:
In recent data breaches happened in 2014 year, two main things have come into focus is Ransomware and unawareness of users toward their device security.
If we look at Ransomware, the rise in ransomware malware is a big concern. It has doubled in 2014 compared to 2013. A nasty malware demands extortion money from users to get their files back in unencrypted state. Experts refer it 'crypto-ransomware' as it encrypts the victim's hard drives. The only solution is to keep a data backup offline for restoration. There are different families of ransomware but apply the same method. Many individuals and organizations pay the demanded money to get back their files.
The second concern is unawareness of users, especially Smartphone users who always ignore security and sharing policy while downloading app. Third party app or app of unknown source seems a dangerous risk to the user device. By downloading third party app, users unknowingly open the door for hackers to inject malware in user device.
Tips to Avoid Data Breaches:
Regularly update firewall that will block malicious incoming traffic. Keep your antivirus updated, as it is on-hand protection for every user.
For business, implement Always-On SSL to secure login information and other data that travels between the users and the company browser.
Educate your staff regarding usage of personal devices, sharing on social media platforms. There should be a designed rules and regulations regarding the use of personal device at office premise.
Develop an incident response plan for quick recovery from the data breach. For that, the roles and responsibilities should be defined in an organization.
Always schedule data backup on a weekly base. Always include OS, application, software and other important data while taking the backup.
Conclusion:
Data breach is an evolving havoc for every organization and individuals, but few precautions and proper security awareness training can evade potential data breaches. Users should think before click on any link and update installed software on regular base. Basic precaution steps can keep us safe from severe damages.