Wildcard SSL vs SAN Certificate - How They Are Different?
Wildcard SSL vs SAN Certificate will help you to find out which multi-domain certificate & wildcard is better for your needs. Are you still unsure that which of both SSL Certificate suited for your website then here listed benefits, comparison and provider's list will also help out you in the same.
Let's look at each in detail: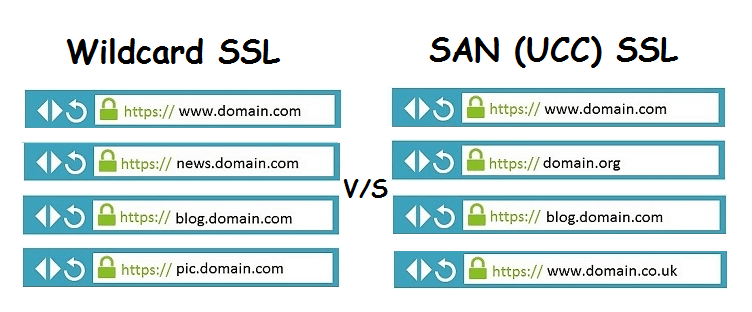 Wildcard SSL
Wildcard SSL Certificate is used by businesses to secure the main domain along with multiple subdomains under a single SSL certificate.
Consider the previous example. Suppose you need to add subdomains to www.example.com. You can go ahead and add login.example.com, mail.example.com and any other subdomain to a single wildcard certificate. The difference between a single-domain SSL and a wildcard cert is that wildcard cert has a prefix '*' known as the wildcard character which is added to the domain name. So '*' could be 'mail' or 'login' or 'FTP' or anything else. In fact, the number of such subdomains can be unlimited. What is also interesting is that you don't have to reissue the SSL certificate when adding a new subdomain.
Benefits of Wildcard Certificate
Easy to manage: What makes wildcard so desirable is the fact that it is easy to manage. The primary domain and all the subdomains are registered under a single certificate. This means that the expenditure incurred is also significantly lower.
Flexible approach: It lets the user add as many subdomains as and when deemed necessary. As long as they're added when the certificate is still valid, you won't have to reissue the certificate. It gives the new subdomains complete and immediate protection. Also, you don't have to define the name of the subdomain when you purchase the certificate. This is where the wildcard character '*' comes into play.
Value for money: Wildcard certificate also gives you great value for money since you are rid of the need to purchase separate SSL certificates for each of those subdomains. You can be economic without compromising your security!
Browser compatibility: It is compatible with almost all the browsers used on computers and smartphones, such as Chrome, Firefox, Safari, Apache, etc.
Encryption: Wildcard certificate offers 256-bit encryption.
When To Use Wildcard Certificate?
Wildcard certificate is recommended for one who has unlimited subdomains & one who has a need to expand later. Hence this is best suited for growing businesses.
List of Cheap Wildcard SSL Certificate & it's Providers
SAN Certificate
SAN Certificate is another term used for a multi-domain SSL certificate. As the name suggests, SAN (Subject Alternative Name) lets the website owner secure multiple domains as well as subdomains under a single certificate. It is evident that the biggest difference between wildcard certificate vs SAN certificate is that SAN can help you protect multiple primary domains while wildcard cannot.
Let's consider our example again. Suppose there's a combination of different main domains and subdomains, such as www.example.com, mail.example.com, mail.example.net, etc. SAN cert covers all these in a single certificate.
Unlike wildcard SSL, SAN cert requires the website owner to define the domains and subdomains when the certificate is being issued. If one wants to add a domain or subdomain at a later time, the certificate needs to be reissued.
Benefits of SAN SSL Certificate
Greater flexibility: Suppose you have 3 or 4 main domains and various subdomains for each, you can secure all of them with this certificate.
Browser compatibility: SAN is compatible with almost all the available browsers.
Encryption: SAN provides a full 256-bit encryption.
Made for ASPs: Application Service Providers (ASPs) can make the most out of the certificate. Since they provide services to different clients over the internet and each client will be using a unique domain name, ASPs can use SAN SSL for securing each of those domain names.
When To Use SAN SSL?
The certificate is most preferred when one has to secure multiple domains with a single certificate. The SAN certificate provides security for various primary domains, sub-domains, etc. that's why it is ideal for a big organizations.
List of Cheap SAN SSL Certificate & it's Providers
Difference Between Wildcard SSL vs SAN Certificate
Wildcard SSL
SAN Certificate
Secure primary domain and all it's an unlimited subdomain.

It will secure multiple domains as well as subdomains

Best security solution for unlimited sub-domains and servers
Best for securing multiple domains.
Wildcard SSL generally comes with DV & OV SSL type, EV SSL option is not available
Multi-domain SSL comes with all SSL type (DV, OV & EV)
You need to add an asterisk sign before a common name (*.yoursite.com)


For Example:

www.yoursite.com
shop.yoursite.com
blog.yoursite.com
any.yoursite.com

Secure your primary domain name (www.yourcompany.com) it can secure your other domains


For Example

www.yourcompany.co.uk
www.yourbusiness.com.au
mail.companydomain.com
Conclusion
In this analogy, we notice that while SAN and wildcard have their differences, they're also similar in that they make it easier for the owner to install and manage the certificates. They're both cost-effective and brilliant replacements for traditional SSL certificates. If you own a growing business in need of a cheap wildcard or SAN SSL, head to the coupons we've given you right away!