Free SSL vs Paid SSL Certificates: Know The Difference
Are you relatively new to SSL certificates? You must be wondering what the difference between free SSL and paid SSL certificate is. Well, you can find out shortly in this article. It has all the details you need to know to help you decide which SSL certificate to opt for.
But before we proceed, are you aware that, the proportion of HTTPS traffic had reached 96% as per Google report. What does this point to? SSL certificates are crucial to a website's security.
No site is too small or large to get compromised when every 39 seconds, there is an attack. Website security should not be treated as an option. At the very least, you should get a free SSL certificate and migrate your site to HTTPS.
Let's know in detail about both SSL Certificates.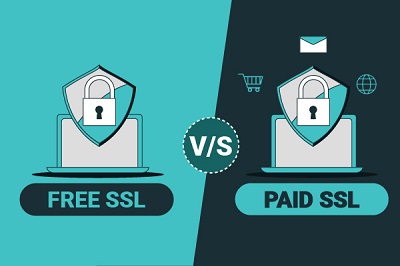 Free SSL vs Paid SSL Certificates Difference
The first difference is that you don't have to pay anything to encrypt your site with a Free SSL certificate. Users are allowed a free trial period, and within that time frame, you can decide whether that particular SSL is right for your website or not.
On the other hand, to use paid certificates, you will have to pay a certain amount of money depending on the type of certificate you are using or the SSL Certificate Provider.
Free SSL certificates can offer you only Domain Validated Certificates, but some certificate issuing authorities can offer a wildcard, provided you meet their requirements like using the right server, right configuration, and so on.
Paid SSLs offer you a myriad of certificate options to choose from, including single-domain certificates, multi-domain certificates, wildcards, multi domain wildcard SSL, and so on. And you will be able to avail most of them at diverse validation levels such as DV, OV and EV.
Usually, Certificate Authorities issue free SSLs for 30-90 days. If you decide not to upgrade, you will have to renew the certificate after that 30-90 days trial period.
Paid SSL are usually issued for a period of 1-2 years.
If you opt to use Free SSL certificates, you will get either a self-signed certificate or a trial certificate for 30 days normally (depends upon the provider). However, a self-signed certificate is marked as insecure in browsers so, you need to go with a trial SSL certificate. It will give you more insight into SSL certificate usage and details.
To obtain a paid SSL certificate, you will have to undergo a strict validation process. Initially, the CA will verify your identity, and before issuing the OV and EV certificates, the CA will conduct an all-inclusive verification of your business. For instance, you will have to provide a verified physical address.
Certificate authentication level
With the Domain Validation offered by a free certificate, you will be able to provide a basic level of authentication for your site. After you install the certificate, your browser will look like:
With paid certificates come higher levels of verification. For instance, when you install a paid EV SSL certificate, your company or organization name will be displayed in your certificate details as well as shows green padlock and https before URL in the browser.
You can't expect to get customer support from non-profit certificate authorities. However, there are plenty of free tutorials and tools available online which can help you to successfully install your free SSL certificate.
Conversely, certificate authorities (CAs) and resellers who charge you for issuing certificates will provide you with 24x7 support and will offer troubleshooting help if something goes wrong. You can opt for any type of support you want- chat, email, or call.
Free SSL certificates are not backed by warranty.
Paid certificates come with warranties in case anything goes wrong at CA's end.
Free vs Paid SSL: Which one is better?
When it comes to determining the type of SSL certificate you should install, the final verdict always lies upon you. Depending upon the circumstances in which you are using the certificate, there is no good or bad SSL certificate.
| Features | Free SSL | Paid SSL |
| --- | --- | --- |
| Price | Free of cost | The price depends upon the certificate types. |
| Credibility | Same but for Limited Time | Credibility with Higher Time |
| Encryption | 256-bit Encryption | 256-bit Encryption |
| Types of SSL | Domain Validation/Self Signed | DV, EV, OV, Code Signing Certificate, etc types of Paid SSL. |
| Mostly Used By | Blogger, Start-ups | E-commerce, Banking, SMBs |
| Customer Support | No | Yes |
| Warranty | No | Yes |
If you think that trust and credibility are not that crucial for your site, the encryption provided by free SSLs for your logins, forms, or other transactional data can be enough for you. This type of SSL is commonly used by bloggers or people who maintain websites for hobby and information providing purposes.
But to go a step up for your website security, you have to opt for paid SSLs. It will build more trust as with paid SSLs, not only show a padlock in the browser, but you can get the secure website seal at free of cost. You can enable it on your web page or at the whole website.
Paid SSLs are widely used by e-commerce websites as users are reluctant to give out their sensitive information unless they know the site is highly secure. They know that websites that carry sensitive information are the main target of hackers.
Thus, paid SSL certificates are highly recommended for business websites.
Conclusion
SSL provides top-notch security, along with data integrity for your website and your website visitors. With the innovation taking place in the technology industry at a rapid scale, hackers are also coming up with unmatched tools that can put your personal information at risk. The only way out is to provide the highest security possible to your sites. Free SSL vs paid SSL difference help to determine which will be the right fit for your website and start using one today.