GoDaddy EV SSL Certificate - Advantages and Alternatives
GoDaddy EV SSL Certificate is one of the most popular products of a varied range of GoDaddy SSL Certificates. It also provides amazing features like own domain ownership, boosts Google ranking, padlock in the address bar, green bar, security seal and much more. GoDaddy Extended Validation certificate provides the highest level of authentication. It requires more evaluation of your business documents and business background, this is the main feature, which makes EV SSL certificate different from other validation types.
About GoDaddy:
GoDaddy offers products like SSL certificates, web hosting, and domain names to its customers. It is considered one of the most trusted brands as GoDaddy has been in the industry for long. GoDaddy is successful in achieving the trust of customers via the support and service provided by them, it provides 24*7 chat support, 30-days money-back guarantees on annual plans and 48 hours money-back guarantee for monthly plans.
With some outstanding performance, support and services, the trust of the customer on the products of GoDaddy increased day by day, which resulted in one of the leading Brands in SSL, Domain and Hosting Industry.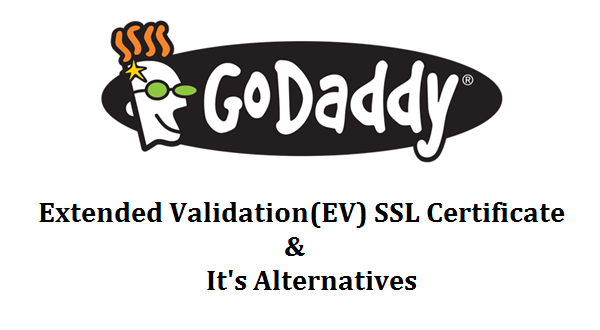 Advantages Of GoDaddy EV SSL:
Business Future Proofing: For an e-Commerce business, high-level security is required and all the pages where the details are supposed to be shared should be secured with EV SSL so that GoDaddy EV SSL is used widely to deploy in order to meet bigger risk.
Decrease in Phishing Scams: Phishing scams these days represent the single biggest threat to web transactions. They can masquerade as your business in order to get personal data from customers.
Customer's Confidence: By seeing the name of the company in the green bar, customers are assured that they are dealing with the actual site, not the fake or spammed one. By this, there are chances of coming again to your site increase. In addition, their confidence also increases.
Customer Support: Whether you purchase an Extended Validation (EV) SSL Certificate from Certified Authority or Reseller they will equally provide you e-mail support and 24*7 chat support. Any query regarding the certificate is solved; as soon as possible, it is possible.
Alternatives Of GoDaddy EV (Extended Validation) Certificate:
After knowing the advantages, some alternatives for GoDaddy EV Certificate are listed here which can be opted to save your money. You should compare their price & features before going to buy any alternative of Godaddy EV.
Conclusion:
Coming to the end hope this article will help you to save money and your time. Here you can easily find the comparison of the Extended Validation SSL Certificate provided by different providers.