How To Get Comodo SSL Certificate Coupon Code
When we talk about digital security, we are talking about the resources that secure online theft, online data, online identity as well as other online assets. Though there are various digital security solutions like Anti-virus software that prevents the virus from penetrating networks and Firewalls which filter the network traffic to prevent malicious entries into the network, there are SSL/TLS certificates that help uniquely secure the web.
What is an SSL/TLS Certificate?
The acronym of SSL/TLS certificates is Secure Socket Layers/Transport Layer Security. These certificates work on cryptographic algorithms to encrypt the web.
Encryption transforms the plain text into a cipher and non-readable text. So, when the client (user's browser) and the server exchange communications in the presence of an SSL certificate, an encrypted channel is automatically generated to secure this communication.
This helps in preventing unwanted intruders from penetrating your digital privacy since these digital certificates help authenticate the server's identity. Installing this certificate is essential for websites and for gaining the HTTPS (hypertext transfer protocol secure) protocol for SEO (Search Engine Optimisation).
Multiple types and validations of SSL certificates are offered by varied SSL certificate providers. Before diving into the prices of SSL certificates and their coupon codes, let's check out the types of SSL certificates and their validations for better knowledge.
Types & Validations of SSL Certificates:
There are varied types of SSL certificates that are available in different validations as shown in the below image.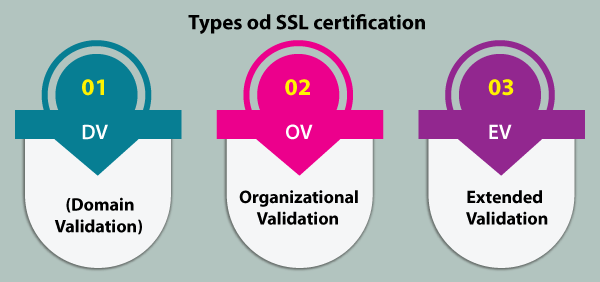 Validations:
Domain Validation (DV) SSL – where the domain name is verified by the Certificate Authority (CA) before its issuance.
Organization Validation (OV) SSL – where the organization name, address, phone number, legal status, and owner's identity are verified by the CA before its issuance.
Extended Validation (EV) SSL – where the organization's operational and physical existence is verified, the domain name is verified, and the owner's identity is thoroughly verified before its issuance by the Certificate Authority (CA). The CA also verifies whether the individual/company is authorized for this SSL certificate or not.
Types:
Wildcard SSL Certificate - This certificate secures the main domain and varied 1st level sub-domains.
Multi-Domain SSL Certificate - This certificate secures multiple domains and varied sub-domains of all levels.
Multi-Domain Wildcard SSL Certificate – If you want to secure different levels subdomains like 1st, 2nd, 3rd and so on thus securing the whole web then, a multi domain wildcard can do a great job for you. You can secure different levels of wildcard domains and their subdomains.
Where to buy these SSL certificates, and which validation will be ideal for their company site? Let me brief you on the fact that just like multiple SSL certificates, multiple SSL certificate providers are also present in the market who offer these digital securities. Let's have a peep at the same.
What are SSL Certificate Providers? How to Choose the Best One?
SSL certificate providers offer SSL products that help gain user trust since they serve as symbols of site authentication, data integrity, and data confidentiality.
They secure the site domains and sub-domains and provide a protected digital environment to their users.
Many SSL providers offer low cost or cheap SSL certificate of all the global brands at enticing rates. Global brands like Comodo, Sectigo, GeoTrust, Thawte, etc. are tough competitors who keep on offering SSL certificates at discounted prices.
The best discount offers are available when coupon codes are also used to purchase these SSL certificates. And the best platform to purchase these coupon codes is – The Cheap SSL Coupon Code website.
What is a Cheap SSL Coupon Code?
Cheap SSL Coupon Code is a website that offers discounted offers in the form of coupons for purchasing SSL certificates, hosting services, domains, and software. It also guides its visitors as to where to buy these securities at discounted rates.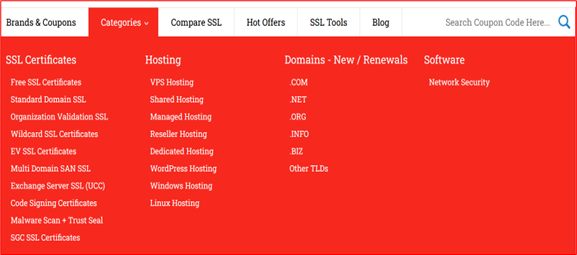 Users who know SSL certificates are aware of different brands like Sectigo SSL, GlobalSign SSL, and Comodo SSL and so on and the benefits they offer.
Here we will have a look at what discount coupons are available for Comodo SSL Certificates on this website.
About Comodo SSL Promo Codes & Coupons:
Comodo SSL promo codes and coupons permit visitors to secure their site at cost-friendly rates. Comodo SSL products have carved a niche in the digital security market and are considered the topmost players in the SSL market.
They are considered the most reliable Certificate Authority when it comes to securing site-sensitive stuff because their robust 256-bit encryption security helps in securing the entire site.
Be it credit card details, customer data, or any site-sensitive stuff, Comodo SSL certificates help secure everything.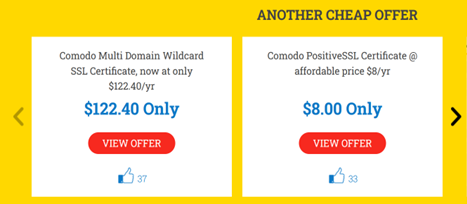 You can find Comodo SSL Certificate Coupon codes available at https://www.cheapsslcouponcode.com/store/comodo.com. They are applicable for all Comodo SSL products and are available in all validations.
How to Get Comodo SSL Certificate Coupon Codes?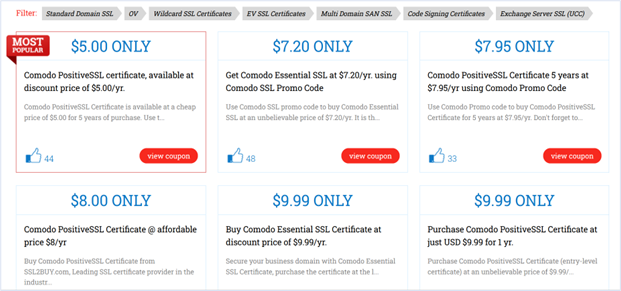 The above image is shared to give a brief idea about how Comodo SSL products can be availed at cheap rates with the help of Comodo coupon codes.
Example:
A visitor wants to purchase a Comodo Multi-domain Wildcard SSL Certificate at the best rate. He is unaware as to whom to approach and which SSL certificate will provide the best rate.
He just needs to visit the www.cheapsslcouponcode.com site and click the coupon for the desired SSL certificate. He needs to copy the coupon code on the website (SSL certificate provider) stated in the coupon.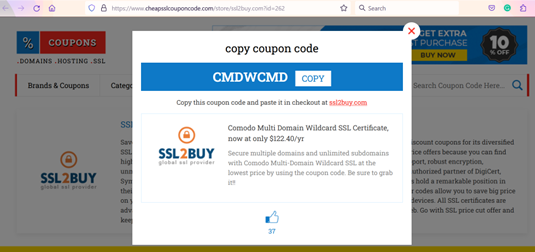 The above image clearly states that the customer should visit the SSL provider website, and avail Comodo coupon at the time of purchasing the SSL certificate.
In above image, Multi-domain Wildcard SSL certificate is available at a cost-friendly rate of $122.40/year on this website (due to the coupon discount applicable) as compared to the Comodo store wherein the rate stands at a whopping $265.78/year (117% high price approximately).
This shows how visitors love to visit this site since they can avail the best rates of their desired SSL certificate under one single roof.
Wrapping Up:
If your site has customer-sensitive data like credit card numbers, addresses, bank details, etc. then purchasing an SSL certificate is a must.
Even if you are in the e-commerce industry where visitors visit and shop on your site, then installing an SSL certificate is mandatory as per the PCI (Payment Card Industry) standards.
With the help of Comodo coupon codes, you can strongly secure your digital presence at lower rates, thus shifting the focus on your business and its revenues.