What Are Advantages To Choose 1and1 hosting, Domain And Other Services?
Many businesses or enterprises emphasize on blogs and website design to appeal customers while some of giving importance to quality content for better customer approach and online presence. Above all, selection of the right web hosting service is quite important than any other stuff. Many enterprises place web hosting on secondary position, which could turn out a nightmare for their website performance.
In below information, we will go through a well-known web hosting provider known as 1and1.com, its services such as Web Hosting, Domains, Servers and much more, advantages to choose 1and1 hosting provider and its services etc.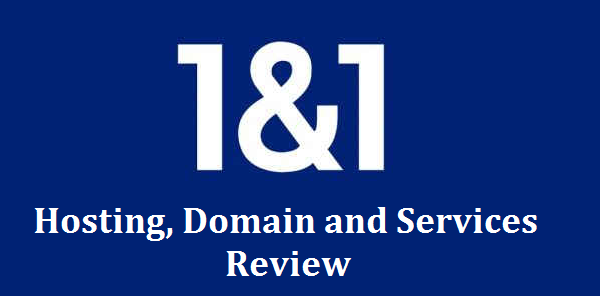 About 1and1.com:
1&1 is a big name in hosting provider founded around 26 years ago, deals with manifold products ranging from domain names, hosting and web security. 1and1 is a one-stop internet shop as it has maximum resources that will help business in creation and maintenance of online presence. The company products are suitable for individuals and every small and medium sized business. All products are equipped with innovative technology and quick technical support.
About 1and1 Services:
Web Hosting:
1and1 web hosting service comes with unlimited plans that offer never imagined features like infinite web space, websites, free domain, 24/7 customer support, free SSL certificate, Click&Build apps, and many other features. With hybrid technology, users can enjoy both web server and webspace on the same platform as a result; your website performance would be improved. Moreover, your website will have hacker protection that will protect your website from outside hackers and SSL protection allows your data exchange in a secured environment.
WordPress Hosting:
WordPress hosting comes with easy one click installation, expert support, ready templates, pre-installed plugins, SSD availability, and DDoS protection. It offers SSD for data and webspace that offers more speed than old hard disk. Additionally, it comes with Geo-redundant infrastructure that ensures you that the data will available at hand and all shared hosting products will run at two separate data centers. 1and1 WordPress hosting offers simple process like choose a domain, install WordPress and make an administrator profile.
Performance Hosting:
Performance hosting provides a dedicated server with all web-hosting features like unlimited websites, FTP accounts, email accounts, domain, free apps, Site Lock trust seal and many other features. Your website will have free SSL protection and DDoS protection that saves your site from potential danger. With performance hosting, 1and1 offers a managed hosting that takes care of server security and software management as well ensure about hardware performance. All data centers and networks are ISO 27001:2013 certified. Site lock site seal scans 25 web pages for vulnerabilities reside in website code.
Linux Hosting:
1&1 Linux hosting has designed three plans for you, which offers countless features for your website. Whether it is a hybrid technology, web space & traffic, SSL security or Geo-redundancy, all features will boost your website performance and enhanced uptime. All plans are made as per business requirement like unlimited, Unlimited Plus and Unlimited Pro. All plans come with unlimited web space as well data storage protection with high-tech data centers located at separate domains.
Windows Hosting:
Windows hosting comes with ASP.NET technology used on servers. Moreover, you will have more than 20 FTP accounts for multiple users upload, unlimited web space, and traffic, cPanel, up to 2GB ram, CDN network, password-protected directories, up to unlimited email accounts. Windows hosting offers dynamic web content that is more than simple HTML content. All windows hosting packages offered from 1and1 hosting are performance based and depended upon business volume. Advanced packages help you to build websites for smartphones and tablets.
Besides hosting services, 1and1 also deals with domains, servers, email services, SEO service and SSL security. Let us discuss on that:
Domain Service:
Besides Hosting service, you can go for desired domain as 1&1 domain service provides ample of domain names at the lowest price. Moreover, you will have a single email account, 2GB mailbox space, SSL security, WHOIS privacy, DNS management and many other features. Your domain will have domain-hijacking protection with domain lock that secures your domain from outsiders. Even you can transfer your existing domain name to 1&1 domain service to avail lowest price benefit.
Dedicated Server:
A dedicated server from 1&1 comes with enhanced reliability and security. Your business will have entry-level servers, performance servers for medium and large business, and top business line server with great hardware connectivity. Whatever plan you select, you will have SSL certificate, firewall protection, US located data center, email support, windows OS, full root access, server monitoring, control panel and many other features that are indeed helpful for any business.
Cloud Server:
A 1and1 cloud server is given on monthly and hourly base whose data center is located in USA, Germany, and Spain. You can select operating systems, as you want to like Linux, windows; Ubuntu etc. Cloud server packages are divided into different parts like for small business, online store and applications, testing purpose, small development projects, large websites, media streaming, etc. Moreover, you will have load balancers, firewall, 24/7 support, unlimited traffic with a cloud server.
Virtual Private Server:
VPS or virtual private server gives maximum performance and simple system management, automatic backups. Additionally, you will have Norton security protection, Microsoft exchange email solution, online storage, domain, IP address, Linux: PHP 5, Perl, Python languages support, Linux and Windows OS, free email support, auto backup, modern data centers.
Email Service:
1and1 email service gives you own identity with a unique email address. It also gives auto synchronization of emails, tasks, contacts across different platforms like a smartphone, laptop or PC. Your employees will also have email accounts with IMAP access, and maximum storage space. You can do business with centralized administration along with team members. You can prioritize task, delegation task with task management. Even online storage allows you data access any time as well edition, storage of documents online is possible.
Online Marketing Service:
It offers useful tools (SEO, SEA, email marketing, list local) that bring more visitors to your website as well improve Google rankings. 1and1 marketing tools take care of clients and improve sales of the website. Even if you are a newbie, these simple tools you can use for your business to improve business online performance. Your business will have a presence in Google maps and directories with 1and1 list local, as well SEO spotlights places your website ahead of rivals in organic search results.
SSL Security:
SSL security is an integral part of any website that secures online communication between the browser and the server. 1and1 offers Symantec SSL certificate that provides the best protection to the site. Your website will have anti-phishing protection, real time scanning, and round the clock customer support. 1&1 offers two types of certificates like 1and1 SSL starter, 1and1 SSL business. SSL starter offers domain validation while SSL business offers organization validation. SSL enhances the customers' confidence and better Google ranking.
Reasons to Choose 1and1.com:
24/7 Technical Support: It offers 24/7 customer support via phone and email as well they have help center where you can read posted articles on issues in different services.
Geo-Redundancy: 1and1 offers Geo-Redundancy that allows your data to be placed in two different data centers with super-fast connectivity.
SSL and DDoS Protection: All your web-hosting packages will have free SSL and DDoS protection that saves you from the potential threat and attacks as well allows the smooth functionality of a website.
Lowest Price: 1and1 hosting prices are lower compared to other providers, which starts at $0.99/month.
Free Apps Integration: You will have click to install free apps, plugins, and themes that are best suitable for your web projects.
Conclusion :
After reading the above points, you can get assurance about 1&1 hosting service as you will have ample of hosting options as well other reliable services. Once you enroll with this hosting provider, your website building, publishing and maintenance will be done carefully and securely. The 1and1 service provider is a suitable option for hosting, domain, online marketing, and online security services.