AlphaSSL Certificates Review - Why Should You Choose It?
AlphaSSL certificates are one of the best choices for your website security. Among the SSL Certificates products in the market, AlphaSSL is one of the finest authorities in the SSL industry and provides the most robust security.
The advent of technology has increased the risk of cyberattacks on your website. For that, you will need an SSL certificate for your website that will help you to stop the risk of any phishing, MiTM attacks on your website.
Many SSL Certificate providers offering certificates thus it becomes difficult for companies to choose the right SSL Certificate as there are many types of SSL certificates available like domain validation, business validation, extended validation, code signing certificate, etc. But AlphaSSL offering two most affordable and standard SSL certificate to secure domain and sub-domains.
AlphaSSL Certificates
AlphaSSL has been in the SSL industry for many years. The authority offers an entry-level SSL certificate. The team has a broad vision about fulfilling the requirement of SSL certificates and is committed to providing low cost and highly trusted 256-bit certificates. The company is backed by GlobalSign. They undertake their WebTrust audits periodically and have their set of policies and procedures.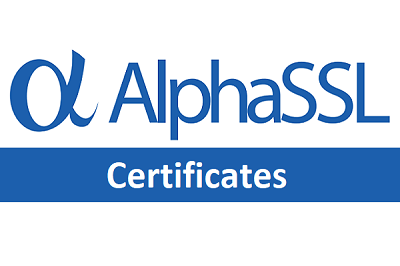 AlphaSSL Certificate
It is an entry-level certificate for websites and positioned as a low-cost SSL certificate category in the market. Moreover, users can avail of the benefits within a few minutes of a certificate. Furthermore, it is governed by a risk-free refund policy. AlphaSSL certificate is a single domain validation certificate that does not take a long time in issuance. The certificate is ideally for a startup, blogger or for single domain security.
Features:
Less issuance timing
2048-bit RSA key
256-bit encryption
Unlimited re-issuance
Easy renewal
Clickable site seal
Browser and mobile compatible
WebTrust compatible
| Price/yr. | Take Action |
| --- | --- |
| $16.00 | BUY NOW |
AlphaSSL Wildcard Certificate
AlphaSSL Wildcard certificate is a domain validation certificate that allows the main domain and its first-level subdomains security. This certificate comes with all the features of the standard one, along with those of Wildcard certificates. Users can secure their sub-domains along with their entire domain. So, when you add a new sub-domain in the future, you need not buy a new certificate.
Features:
It takes only around 3 minutes or less for a certificate to be issued.
It comes with a Secure Site Seal that is clickable also.
It also provides a very strong 2048-bit root that can allow 256-bit encryption.
Supports unlimited server licensing.
Compatible with desktop and mobile browsers.
| Price/yr. | Take Action |
| --- | --- |
| $34.00 | BUY NOW |
Why Should You Choose?
Affordable option - It all starts with being an affordable price compared to other authorities. Compare to other types of certificates, AlphaSSL is one of the cheapest options that you can put trust for your website security. You will get cheap price plus strong encryption at once.
Automated processing - The certificate authority carries online automation for the certificate configuration process. There is no paperwork involved in obtaining the certificate.
Compatible with major browsers - Renowned browsers and mobile devices recognize certificates. Whether you browse on Opera, Safari or any other browser, you will not find any SSL warning or insecure warning. Moreover, almost OS and servers support this SSL certificate.
Fast Issuance - AlphaSSL certificates comes with fast issuance and both its single domain and wildcard certificate takes few minutes in issuance providing domain validation method. You can install AlphaSSL single domain certificate on the server in a few minutes.
Strong Encryption - The authority makes a certificate so strong with 256-bit encryption that does not allow hackers to sniff ongoing communication between the server and the browser.
Pros and Cons of AlphaSSL Certificate Authority
Pros:
AlphaSSL is a reputed certificate authority in the SSL industry that has satisfied thousands of clients with its online security certificates.
AlphaSSL Certificates price is so affordable that it has become already the first choice of many enterprises for their website security.
The certificate authority has years of experience and is the most reliable SSL providers globally.
The refund policy allows a 30 days refund if you wish to discontinue the purchased product.
Cons:
The organization provides only a few options for their clients. It does not cater to the entire range of SSL products.
Conclusion
AlphaSSL has gained years of experience in the SSL industry. The authority has a clear focus on providing online security with its best SSL certificates worldwide but at the lowest price. All certificates are fit to handle 256-bit encryption and a 2048-bit private key that keeps information encoded between the server and the browser. However, their customer support facilities are at their best. In case you wish to opt for an affordable SSL certificate, AlphaSSL certificates are the best option.