AlphaSSL Wildcard Certificate Review
AlphaSSL Wildcard is more than a simple SSL certificate because it secures primary domains and its sub domains. It is a chained SSL certificate means that you will have a higher level of security compared to what you get with a single root certificate. This is cheap wildcard SSL certificate in the market that comes to you at the lowest cost in the industry. All of this makes the wildcard product of AlphaSSL a very attractive to SSL certificate seekers who are looking to get subdomains security for their websites with 256-bit encryption.
This entry-level SSL certificate is backed by an automated process for application. This helps you to get the SSL certificate in a matter of a few minutes. To top it all, there is no need for additional legal and business documents to get this domain validation certificate. This in turn results in a speedy issuance of SSL certificate, which makes it popular among small and medium-sized businesses.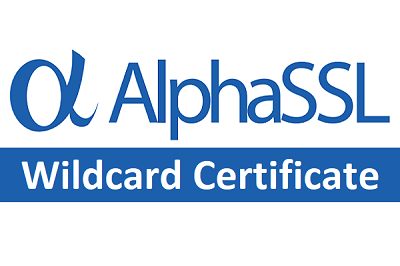 By providing AlphaSSL Wildcard, the CA (Certificate Authority) AlphaSSL has earned a reputation for being one of the best entry-level SSL certificate providers in the market today. They primarily focus on ensuring that businesses can gain access to the best industry-standard SSL certificates at affordable prices.
With many years of experience in serving SSL certificates with the expertise of their team, they command a solid position in the marketplace. Their client base is rapidly growing as more and more site owners are looking for cheap SSL certificates to take care of their SSL certificate requirements. With this post, we will aware you about one of the most popular certificates of AlphaSSL that will help you to secure unlimited subdomains.
AlphaSSL Wildcard Key Features
There are few features and benefits that make it worth purchasing SSL certificates among other wildcard certificates. Here are some salient features:
Cost-Effective: AlphaSSL Wildcard is issued instantly and is very easy to install. Moreover, the unlimited subdomains protection feature makes this certificate worth considering.
Higher Rankings: The certificate helps you in improving your website ranking in Google search results. Improved search results would give you better sales conversions in the near future.
Protection: You can protect unlimited subdomains using a Wildcard certificate of AlphaSSL. Not only that, but you also get unlimited server licenses and you can get your certificate re-issued an unlimited number of times.
Inexpensive: AlphaSSL Wildcard Certificate is the cheapest wildcard certificate available for 1, and 2- year durations.
Compatibility: Wildcard SSL from AlphaSSL is supported on 99.9% of all desktop and mobile device browsers. Whether you install on the cPanel or IIS server, this certificate is mostly compatible with most servers and operating systems.
Trust Symbol: It is accompanied by a free secured site seal from AlphaSSL that helps you in increasing trust among your customers. You can place it on any webpage where you find it most suitable.
Domain Secured: The certificate protects your primary domain as well as your subdomains. You do not need to spend extra cost once you have this SSL certificate.
Encryption: Wildcard Certificate of AlphaSSL provides domain-controlled validation and SHA-256-bit encryption. This level of encryption is a modern industry level encryption that keeps cyber intruders away from online information.
Assurance: The certificate also comes with a $10,000 warranty that can be claimed in the mis-issuance of a certificate.
AlphaSSL Wildcard Benefits
Affordability - Great value of money irrespective of size.
Transparent pricing - No hidden charges for support.
Fast access - Quick, convenient and automated application process.
Security commitment - Guarantee of strong security.
Top Providers
In summary, Wildcard Certificate of AlphaSSL is a business class certificate that comes at a very affordable price. They provide the perfect combination of the best security features that you need for protecting your servers.