What Is Wildcard SSL Certificate & Its Benefits?
Wildcard SSL Certificates secure primary as well subdomains under a single certificate. It is beneficial from the cost and security point of view that not only offers strong protection for the website but also validates business over the web. It is an ideal certificate for all sizes of business. You can also add subdomains at any time during the certificate life cycle for which there is not any additional procedure required that saves your time and money.
For example:
If it is issued for *.exampled.com then it secures main domain and its subdomains like below:
www.example.com
blog.example.com
payment.example.com
email.example.com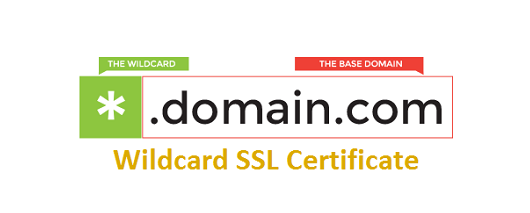 Wildcard SSL Certificate - Benefits (Pros)
Unlimited Protection
Wildcard certificate for subdomains is able to secure all your subdomains. Yes, it secures the exchange of online information up to 256-bit encryption and keeps intruders away from sensitive data. Secure your primary domain (for example *.yourdomain.com) and can add subdomains below the primary domain to get protection for all subdomains without spending a single penny.
Save Cost
Due to the ability to secure unlimited sub-domains, organizations can add, edit subdomains during the lifecycle of a certificate without any additional cost required for individual subdomain certificate. Thus, it is a boon for those businesses who want a cost-effective solution for their website security. Therefore, it is popular among SMBs due to its distinctive features.
Simple Certificate Management
A single certificate follows a simple one-click installation instead of a lengthy process. Although, the certificate comes with easy certificate management as organizations do not have to rush after managing multiple certificates and provides hassle-free certificate management.
Users Trust
A secured website will have more traffic and user trust compare to an unsecured website. Customers will put trust on your website as the site has maximum encryption as well Wildcard SSL comes with a domain or business validation that depends on the certificate you choose. It also assures customers about website reliability, which means a legitimate certificate authority (CA) has verified your website and is safe for online shopping and any transactions.
Compatibility
It is compatible with most servers and browsers (desktop and mobile). However, a few old browsers do not support this certificate. For that, the SGC (server-gated cryptography) certificate is an ideal option. Many providers offer more than 99% browser compatibility, ensures customers that the website will have a smooth browsing experience without facing SSL warning issues.
Rapid Issuance
You can get this certificate within two days, as the certificate does not follow the rigorous verification process. If the CA follows domain validation, the certificate takes a few minutes for issuance while in business validation, the CA checks business documents and issue certificates within two days.
Trust Seal
Many certificate authorities offer a trusted site seal at free of cost for additional assurance that a website owner can place at any webpage where customer trust is required. The site seal assures customers that reputed certificate authority has backed the website.
Is Wildcard Certificate secure Second Level Sub Domains?
However, keep in mind that it only secures first-level subdomains but not second-level subdomains. For example, if your primary domain is *.yourdomain.com so, you can secure sub.yourdomain.com, blog.yourdomain.com, email.yourdomain.com but you cannot secure sub.sub.yourdomain.com, blog.sub.yourdomain.com, etc.
As if you want to secure second-level subdomains like sub.sub.yourdomain.com, blog.sub.yourdomain.com then you will have to buy SAN SSL Certificate that helps to secure multiple domains like single domain, subdomains with any level, single subdomain, different TLD based domains like below:
yourdomain.com
blog.sub.anydomain.net
subdomain.anydomain.com
anydomainname.biz
Difference Between Wildcard and SAN Certificate
Wildcard & SAN Certificate, both secure your data but their functioning to secure domains remains different. Let's have a look at both of them:
SAN certificate is ideal for securing multiple domains, first and second level subdomains,

For example, you can secure www.maindomain.com, www.countrydomain.co.uk, mail.maindomain.com, *.domain.com. SAN is mostly useful for Microsoft exchange servers 2003 to 2013, Office communication server, Microsoft exchange services like mail, outlook, and autodiscovery. There are certificate authorities who offer up to five domains with a single SAN certificate, later on, a website owner can add additional SANs during a lifecycle of a certificate.

As we have seen earlier that it can secure unlimited subdomains of the single main domain. While purchasing it, you do not need to state every subdomain, on the contrary, you have to define SAN names while purchasing SAN certificate.
If you want to secure all subdomains, second-level subdomains, as well as multiple domains, then SAN (subject alternative names) SSL can be a useful certificate for you. Many people have a dilemma situation regarding both products but here we have cleared the delusion and shows the difference. You can read more on Wildcard and SAN SSL certificate.
Both products can save money and makes certificate administration a bit easy.
Now, We hope you have a basic idea of both certificates. If you want to protect only one single domain and its first-level subdomains then you should go with Wildcard product otherwise, you can go with the SAN certificate for multiple domain protection.
Conclusion:
Wildcard Certificate is a perfect solution for those businesses who want robust protection solutions at an affordable cost. It is unarguable that reputed certificate authorities of Wildcard SSL help to boost customer's trust on the website as it eliminates browser warning because already trusted by major browsers.