Top 7 Best WordPress Security Plugins To Strengthen a Site's Security
While WordPress core is fully secure, security violations may occur from your end, because the plugins and themes you use might be susceptible to hacking and malware attacks. Moreover, one of the best ways to protect your WP website is by using the best WordPress security plugin. There are tons of security plugins out there that boast to offer 360-degree protection. It might be daunting to find the right security suite for your site.
WordPress is at the topmost position on the list of the best content management systems available today due to its features and customization options. You can easily build an exclusive website all by yourself or just look for a WordPress developer to build a feature-rich web portal. This is the reason why a large number of people are using this platform for creating and managing their sites. However, no matter how popular or eminent a website building platform is, they are also prone to hacking and malware threats. Nothing on the internet is bullet-proof secure. Hence, you need to strengthen the security of your site.
We have mentioned the top 7 WordPress security plugins in this post from which you can choose one that fits your interests.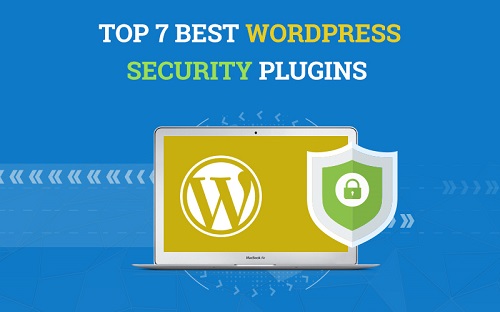 Top 7 Best WordPress Security Plugins
iThemes Security
It is a powerful security suite that boasts to provide 30+ ways to protect your website from security threats. Earlier it was known as Better WP Security. Once you integrate this plugin into your site, you can rest assured of your website's security as it provides complete protection against threats like hacking, malware intrusion, brute force attacks, and more. It comes with tons of safety features such as setting the limit for login attempts, file integrity checks, strong password enforcement, security hardening, 404 detection and more. However, it doesn't have its own malware scanner and it utilizes Sucuri's Sitecheck scanner for detecting malware.
Sucuri Security
When it comes to WordPress security, Sucuri is the industry leader that is used by a large number of people. Besides the premium version, there is also a free Sucuri Security plugin that comes with basic features. By using this plugin, you can harden your website security as well as scan your site for common threats. But you get the true value of Sucuri with the paid plan, which provides strong firewall protection for your WP website. The firewall helps you prevent brute force and other malicious attacks and safeguard your site.
The firewall also tracks and stops bad traffic before it reaches your server. Plus, they also offer to clean up malware-infected WP websites of their customers with no extra cost.
Wordfence Security
It is a very popular WordPress security plugin that is loaded with extensive features. Wordfence Security offers powerful security tools like security incident recovery tools and strong login security features. This plugin allows you to take a view of overall hack attempts and traffic trends. It checks your site for vulnerabilities and provides alters on finding any issue. You can get all these features along with the benefit of built-in firewall with the free version of Wordfence Security. The built-in firewall prevent bad traffic after identifying it.
Jetpack
Most WordPress users are familiar with this plugin because it is created by the same people as WordPress. It is loaded with great features for site speed, spam protection, and strengthen your social media. It entails some security tools which make it a reliable plugin for those who want a reputation security solution free of cost. It offers basic security functionality including brute force attack protection, whitelisting and more. However, you can easily tighten your WordPress security to the fullest by using the paid version of Jetpack.
All In One WordPress Security & Firewall
It is a useful WordPress monitoring, auditing, security, and firewall plugin. You can use it to deploy basic security features for your WP website. There are numerous features you can avail with this plugin, including login lockdown feature which stops brute force attacks, IP filtering, detects suspicious patterns of database threats, user account monitoring and more. This security plugin also comes with a firewall with some basic features which can find common patterns of threats and block them. However, it is not fully effective and you may need to blacklist suspicious IPs manually.
Defender
It is a powerful plugin that offers dozens of excellent features. Both the free and paid versions of the Defender security plugin come with topmost security hardening features making your WP site secure. The scan tool from Defender makes a comparison of your WordPress install with the directory then on the basis of that it provides reports on changes as well as gives an option to restore changes in a single click. The premium version of Defender offers a blacklist monitoring, automated security scans, logs auditing for monitoring and many other features. You can also ask their experts to clean up your hacked site.
VaultPress
VaultPress is created by Automattic and it works in a similar manner as Sucuri Scanner and iThemes Pro do. You can get any type of protection by paying for it. The price is reasonable and it is counted as one of the most affordable WordPress security plugins. There are useful plans for bloggers and small businesses and you can also switch to more advanced plans in case of large businesses. By using this plugin on your site, you can easily protect your site from various security threats and attacks.
WordPress is one of the most secure website building platforms, yet vulnerabilities may arise like with any other platform. Often these vulnerabilities come from users' end for a number of reasons. Moreover, you can eliminate all vulnerabilities and harden the security of your WordPress website by using WP security plugins. You can also choose the WordPress development company to create a custom security solution for your site to protect it from various threats.
By adding a security plugin to your site, you can protect it against potential site vulnerabilities and secure your data. There are lots of plugins to choose from and they are available for free or at some price. You can avail additional features and better functionality with the premium version of security plugins, yet the free versions are enough to provide basic protection to your site.