Comodo Positive SSL Multi Domain Certificate - Who Is Offering Cheap Price?
Many large enterprises search for a single solution that can fulfill need of multiple domain security. In addition, it is quite true that purchasing individual certificate for every domain may increase IT admin cost as well creates complexity in certificate management. In that case, to have Comodo Positive SSL Multi Domain certificate is a perfect solution for large businesses that can protect multiple domain names with single SSL certificate which helps to get multi domain security at the cheap price, as there is no need to take separate SSL certificate for each diverse domain name.
In this short and important article, we will discuss one of the most talked SAN SSL certificate called Comodo Positive SSL Multi Domain Certificate.
Comodo Positive SSL Multi Domain Certificate :
Comodo Multi Domain SSL certificate comes with 3 domain licenses & allows to add up to 100 SAN (subject alternative names) during certificate lifecycle. In case of multiple domain protection, the certificate is issued for primary domain for example, www.yourdomain.com can secure following SAN such as :
www.yourdomain.co.uk
www.yourdomain.com.au
mail.yourdomain.com
payment.yourdomain.com
edu.info.yourdomain.com
There are outstanding features of Comodo Positive SSL Multi Domain SSL Certificate that puts it ahead of other SSL certificate.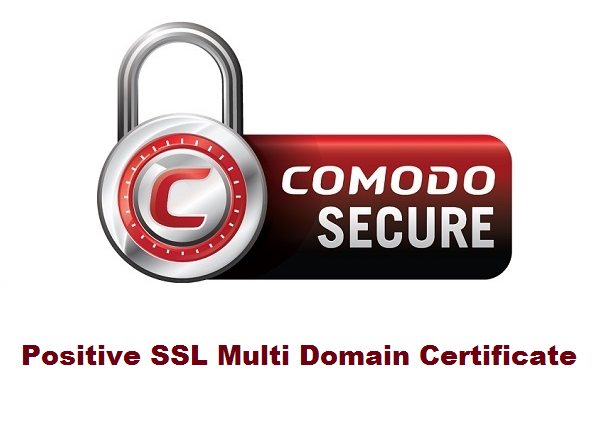 Reasons to choose Comodo Positive SSL Multi-Domain (SAN) Certificate:
Quick Issuance :
Comodo Positive SSL Multi Domain (SAN) Certificate follows quick issuance. An enterprise does not need to submit legal papers to certificate authority and an enterprise can have its SSL security within 15 minutes.
Strong Encryption :
The certificate comes with 2048-bit CSR encryption means Comodo root certificate is highly secured with strong encryption. As well, the data travel between the server and the user's browser will have 256-bit encryption to save the information from prying eyes.
Highest Compatibility :
The certificate has root certificate that is recognized and implemented in major browsers whether it is mobile or desktop browser. Therefore, there is no issue of browser compatibility hence; customers will never face any SSL warning while visiting the website.
Static Site Seal :
Static site seal means a logo that will be available free when you purchase the certificate. You can put this site seal on any page of your website where customer assurance is required. It will help customers to easily know that the website has Comodo SSL protection.
Advanced Warranty :
Comodo Multi Domain SSL certificate comes with $250K warranty that provides protection in case of any misissuance of the certificate. The certificate thus ensures that you are getting dual advantage of online security as well monetary safety.
Domain Validation :
This SSL certificate offers domain validation that refers establishes strong security rapidly on the website. The green padlock before the website URL shows that the domain is verified and the site is accessible.
Multi Domain Protection :
As the name suggests, it can secure up to 100 SANs with strong encryption. You do not need to spend extra money for extra domain protection. You can add SAN name to the certificate whenever you wish to do during the SSL certificate lifecycle.
Simplified Certificate Management :
It offers protection for multiple SANs as a result; IT department will have smooth certificate management including taking care of expiry, renewal, installation of a certificate.
Top 8 Comodo Positive SSL Multi Domain Certificate Providers:
Get cheap price for Comodo Poitive SSL Multi Domain SSL Certificate from best providers list.
Conclusion :
Comodo Multi-Domain SSL is an answer to all your queries related to protection of diverse domains and subdomains. Additionally, you can save huge money by securing multiple domain names and paying for only a single SSL certificate.