DigiCert EV SSL Certificate Review - Why to Choose?
Digicert EV SSL is a certificate, intended to give the user more confidence that they are dealing with a safe and secure website, it becomes easy for the visitor to know that they are actually dealing with the real website, not the counterfeit one.
How will Customer come to know that they are browsing safely?
Very simple, after issuing the EV SSL Certificate your company name will be displayed on address bar with the green text color.
About DigiCert:
DigiCert offers top-shelf digital certificate & a wide range of SSL Certificate all with the superior features & a fraction of the cost. DigiCert is one of the founding members of the CA browser forum and it has worked in conjunction with Microsoft to develop & promote Subject Alternate Names (SAN). DigiCert is one of those Certificate Authorities that has dedicated itself to advancing SSL Technology.

\
DigiCert EV SSL Review - Why should go with?
DigiCert Extended Validation (EV) SSL Certificate helps to gain the trust of customers easily and the reason with DigiCert rather than other CA providers is DigiCert gets issuance of EV SSL Certificate in less than one hour. Where else other providers can take many days or even a week.
In addition, it is is an A-One Certificate that offers the highest degree of authentication protocol & verifies the organization's credibility before issuing the DigiCert Extended Validation SSL Certificate also, DigiCert provides diverse other certificates.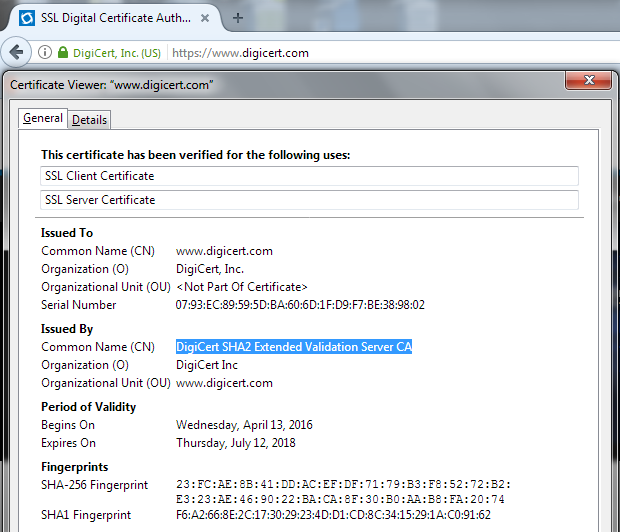 DigiCert Extended Validation (EV) SSL Advantages & Price
Free re-issue for the life of the certificate
An unlimited server license
Certificate Issuance in less than One-Year.
Provide 24*7 Customer Support
30-days Money Back guarantee
100% Browser Compatibility
Conclusion:
There is no doubt about the versatility of DigiCert and the products of it. This article had given a deep review & analysis of the Digicert Extended Validation SSL Certificate. Hope this article will help you out and will save your time for searching out the Cheapest EV SSL providers.