HostGator vs GoDaddy - Which One Is Better?
In this article, we will summarize a few quality features of two reputed hosting provider services named GoDaddy and HostGator that make them first choice for hosting service seeker.
Web Hosting is worth considering options before running your website successfully on the web. Many hosting providers are dominating the market these days. Whether it is WordPress hosting, website hosting, shared hosting, domain service or VPS hosting, there are best in the industry hosting packages out there in the market. Nevertheless, every object has its weakness or drawback therefore, customers should check twice before choosing the right hosting provider.
Few renowned hosting services are GoDaddy, HostGator, Bluehost, DreamHost, 1&1 hosting who have proved their existence in front of their customers.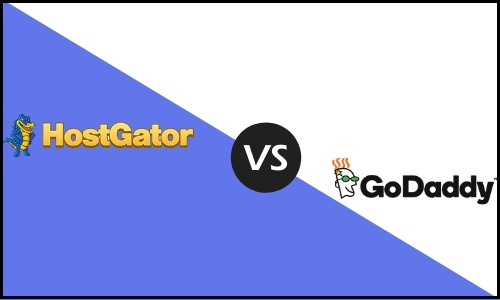 HostGator vs GoDaddy
Hosting Plans and Price
HostGator provides three types of hosting plans such as Hatchling plans, Baby Plans, and Business plans and the cost starts from $2.63/month that is ideal for any business startup. The basic plan, however, comes with great features like unlimited disk space and bandwidth, one domain, unlimited subdomains, modern cPanel and many other features that will help the business to take off in a successful way.
On another hand, GoDaddy has four plans named Starter, Economy, Deluxe, and Ultimate. The basic plan cost starts at $1/month, which is slightly lower than HostGator's basic plan. The startup plan allows you a single domain along with features as unlimited bandwidth, site backup, email address single click 125+ free applications, security protection. While other plans have, unlimited features and prices range from $3.99 to $7.99 per month. If we compare the price, GoDaddy is slightly offering lower price but on the contrary, HostGator has immense important hosting features.
Customer Support
Customer support is an integral part of any company's product and service. HostGator has served thousands of customers until the date with its flexible and sustainable customer support. HostGator solves customer's queries via resources like customer portal where customer can generate support ticket, live chat, and telephonic support that reduces the time taken in individual query solution that makes a good impression on customer's mind.
GoDaddy is also providing up to the mark technical support to customers with resources like telephonic support on a 24/7/365 days a year. Besides, GoDaddy has arranged a few articles on the domain, hosting, SSL certificate, and account management related knowledge. GoDaddy supports live chat options for a quick resolution to customer's queries so the overall GoDaddy has enough satisfying customer ratio.
Control Panel
Control panel runs on a web server where files can be created, managed or transferred as well as program installation or email management is also done. HostGator has a very friendly cPanel that requires no technical knowledge. It offers a platform to run instant shopping carts, blogs, forums, and portals. It offers a single click installation along with an auto-update feature.
GoDaddy has customized Linux cPanel, which requires knowledge to run it. GoDaddy website has cPanel instruction readily available. Users can follow instructions regarding email, application setup, file management and use control panel smoothly. Its cPanel allows users MySQL database creation, WordPress installation, email setup, application installation, and website backup. Both HostGator and GoDaddy offer smooth and friendly cPanel to simplify the website hosting process.
Free Perks
Free perks/benefits help hosting provider to attract customers easily. When you go with HostGator hosting service, you will have free Weebly site builder and tools, free website templates, free website transfer, free to install scripts, and $100 Google AdWords and Yahoo credits.
GoDaddy has limited free benefits as the company offers a free domain with an annual plan, free SSL certificate with an ultimate plan, and free advertise credit for Google, Bing, and Facebook. If a user wants free domain and SSL security then GoDaddy is an ideal option otherwise, HostGator is the best option.
Performance
HostGator servers are equipped with modern infrastructure. It promises better performance with 99.9% uptime reliability. The loading time of the website is 4 seconds and offers a faster response to website loading. Outages and downtime of the website are at a minimal level in HostGator.
GoDaddy also deals with a 99.9% uptime guarantee and assures that if the downtime of a website is more than 0.1%, then the company will pay back lost time and will give a refund of money for that month. On the GTmetrix benchmark test, HostGator website takes around 4 seconds while GoDaddy takes around 2 seconds in page loading. In the case of performance, GoDaddy wins here which offers quick page loading.
Data Backup
Backup is an important thing in hosting and HostGator provides automated backups on a weekly base. HostGator cPanel offers instant backup of the entire cPanel account and allows you to download links. Users can restore this backup file later. In addition, GoDaddy allows strong auto backup via cPanel and allows users for data restoration. Both companies take care of data backup and secure users in the event of server failure or attack.
Recommendation
After going through the above features of GoDaddy and HostGator, it is clear that both service providers are at their best. It depends upon website types, requirements, and budgets that mainly influence hosting service decisions. Both providers have a balanced between affordability and quality in relation to web hosting. Now, it is up to you, which hosting provider you will prefer.