Namecheap Symantec Certificates Alternatives - Know Cheapest SSLs Options
One of the world's most renowned tech company Namecheap and its sister company SSLs.com discontinued providing Symantec group products from 30 November 2016. This means that their clients will no longer be in a position to renew or purchase any of the Symantec group SSL Certificates such as GeoTrust, Thawte, Symantec and RapidSSL products from the company itself.
The company believes that it wants to offer the best products and a better experience to its customers in the already very competitive market. This initiative will see them come up with new product, and in future, they would like to attach to Comodo instead of Symantec Group certificates to serve their growing customer base more efficiently.
What does this mean to you as a Customer?
If you have a live site that uses any of their SSL Certificates, worry not for the security of your website will still be maintained and observed. It is not clear how long this company will take a break but it has requested their customers to either move and/or choose another provider, which offers the same Symantec SSL Certificate. This is for those who do not want to change their Certificate Authority. Well, Certificate Authority simply issue SSL Certificates on base of certain criteria. For those who want to be under a different CA, Namecheap and SSLs.com have suggested a CA called Comodo.
The fact remains that Namecheap is taking some timeout. If you are a customer then there is some good news for you if you want to hold on to Symantec SSL certificate.
If you hold any of the Symantec Certificates (GeoTrust, Thawte, Symantec and RapidSSL), you can renew or purchase a new one from providers who allow discounted prices to renew their certificates.
Here is a practical scenario, if you have purchased a Symantec certificate from Namecheap and the expiry date is almost near or you just want to renew it in advance then you have two options you either can renew your certificate directly from a Certificate Authority (CA) or should find cheaper option to renew certificate. It means that there will be no need to replace your certificate when other providers are providing the same quality certificates.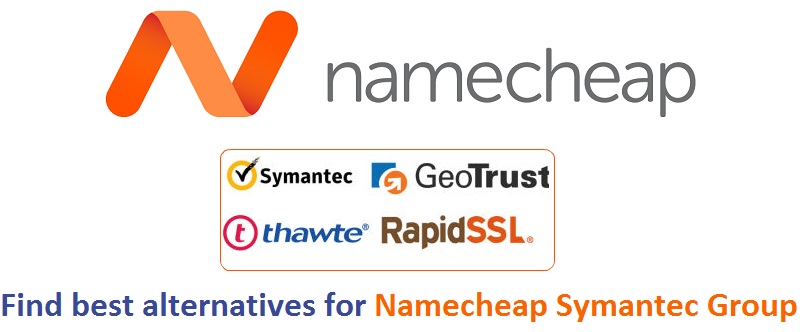 A brief look at Symantec Group
Symantec is a big group that has gone out of its way to broaden security solutions for any size of a business and industry. In other words, it ensures that end clients get the strongest encryption and environment when visiting a website. Symantec does this by making sure that every certificate follows CA/Browser guidelines.

RapidSSL certificates are the most trustworthy of them all. They have streamlined and automated the authentication process for their basic Secure Socket Layer. The RapidSSL certificates have two categories: RapidSSL Wildcard certificate and RapidSSL domain validation certificate. RapidSSL Wildcard certificate allows your website to conduct a secure online-based business with an encrypted SSL connection. This is a great solution for entry-level websites since most browsers support it. The best part about it is that it can be used to secure unlimited subdomains on a single domain name.

Thawte SSL certificates are the number one indicators for any online enterprise. As a matter of fact, Thawte has the best solutions for securing any online business. There is a guaranteed expert support and authentication process as a well as a fast and easy online management platform. Thawte is the world's first international Certificate Authority outside the US and it provides its services in about 200 countries.

The unique aspect of GeoTrust SSL is its ability to provide strong encryption over the internet. It has a range of products such as GeoTrust Wildcard, True BusinessID and QuickSSL premium just to name a few. GeoTrust has been proven a trustworthy and reputable brand that offers quality products.

Symantec Company has been recognized as one of the best global leaders in security innovation. It has a range of products such as Web security, cyber security services, information protection as well as threat protection. This gives them an advantage in providing maximum security for all types of sites. Symantec SSL Certificates offered by the company includes Symantec Secure Site and Symantec Site EV SSL certificate and more others.
Are you stuck? What to do next?
As said earlier an existent user can renew or purchase Symantec group SSL from trusted ssl providers who are authorized to resell SSL Certificates.
If you are stuck or looking for the best possible options from which you can purchase or renew your SSL Certificates, then here are a few suggestions:
The offers and prices given for the different Symantec group SSL certificates vary from site to site. You can find coupon codes that will help you to purchase SSL certificate at greater discount price. They offer pretty discounts whilst they also help in the renewal process of certificates so feel free to check them out.
Take your time to research on the best and most affordable SSL Certificates that will suit you and your budget. If you want to find cheap deal for your renewal then the above providers will help you definitely to purchase your ssl certificate.