GeoTrust QuickSSL Premium Review - Top Providers & Cheap Price
GeoTrust QuickSSL Premium is one of the most entry level SSL certificate for which we will discuss in detail in this post. The idea behind SSL security is to secure online transactions, to save the information from intruders and provides confidence to online shoppers. If a website owner wants to assure his visitors and customers then this domain validation certificate quickly secures the site and offers relentless protection by securing their traveling information between the web browser and web server.
About GeoTrust:
GeoTrust is a world's largest SSL provider company taken over in 2010 by Symantec. GeoTrust SSL certificates follow CA/Browser forum and other industry standards. Every SSL certificate is designed as per diversified business needs. GeoTrust has satisfied thousands of customers across multiple countries by providing digital security that enabled organizations to increase their security level of web transactions. GeoTrust deals with Code Signing, Extended Validation, SAN certificate, domain and business level certificates.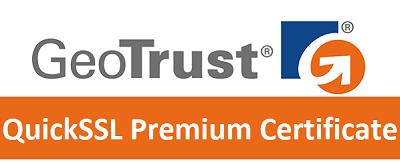 GeoTrust QuickSSL Premium Certificate - Benefits
GeoTrust QuickSSL Pemium is a domain level certificate that is ideally suitable for heavy-traffic e-commerce sites that handle sensitive customer information. The certificate is popular in enterprises because of simple domain verification and fast issuance. There are few benefits associated with this certificate are as under:
Robust encryption
It protects online transactions by encoding them with 256-bit encryption while GeoTrust root certificates follow 2048-bit CSR encryption. It avoids sniffers from spying customers' online transactions and offers confidence to customers.
Rapid Issuance
QuickSSL Premium Certificate verifies the domain ownership and follows rapid issuance. The website will have instant security that entices customers to browse the website in a secure environment.
Domain Verification
The certificate adopts a primary level of validation also named domain validation, Therefore no legal documents or deep verification of a business is required. Once the domain is verified, your customers can click on the certificate to verify the authenticity of a website.
Assurance
GeoTrust QuickSSL certificate also takes care of financial security along with web security, Therefore it offers $500K warranty in case of misissuance of the certificate.
Dynamic Trust Seal
GeoTrust Dynamic seal helps customers to verify the secured status of a website. Customers can see the timestamp and reveal that the site has been authenticated by reputed GeoTrust brand.
Universal Browser Support
Whether you browse the website through desktop or smartphone, the certificate supports both mobile and desktop browsers. The certificate is universal carries more than 99% browser compatibility.
Unlimited Server Licenses
You can install GeoTrust QuickSSL Premium Certificate on a number of servers as it saves the cost of SSL installation on individual servers. Besides, this certificate works for both www and non-www domains.
Top 11 QuickSSL Premium Certificate Providers
Conclusion:
When you have the certificate on your website then overall customers' conversions and the ROI of business would inflate. The certificate provides solid security that places website ahead of rivals. Many CAs have been providing different types of SSL certificates to businesses. The above resellers and hosting providers are in this race to make their customers happy by offering cheap price for GeoTrust QuickSSL certificate with the same quality SSL certificate.