GeoTrust Wildcard SSL Certificate Review - Benefits, Providers & Price
GeoTrust Wildcard SSL secures your main domain and its first-level subdomains. The certificate is high in demand across big and small businesses, organizations & enterprises. It is one of the best wildcard certificates that offer strong encryption and which is available at a reasonable price. It is also known as GeoTrust True BusinessID Wildcard Certificate.
In today's world your website is the backbone of your business, no matter what kind of business you have, your website is vital to your success. Nowadays much big companies or organizations have websites that feature sub-domains. These can be the email server, FTP server, login portal or other range of function, it is quite difficult to secure all in one unless we use what is called Wildcard certificate.
About GeoTrust:
GeoTrust is the world's second-largest digital certificate provider. It has satisfied more than 100,000 million customers across the world. It offers fast delivery at a cost-effective price, enabling up to 256-bit SSL encryption. It provides a range of SSL certificates (Code Signing, Extended Validation (EV), Wildcard certificate) which are designed according to the business requirement.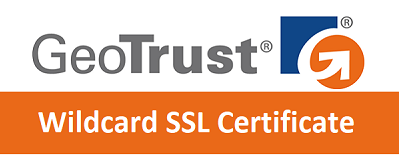 GeoTrust Wildcard Certificate - Benefits
Wildcard Certificate of GeoTrust allows you to secure your unlimited sub-domains on a single certificate, reducing management cost and time. Some of the splendid features of this certificate are as under:
Trustmark
GeoTrust Site Seal comes free with this certificate which treats as a symbol of trust for customers on the site. It shows the company name, current date and time. Customers will get the assurance that the security is up-to-date and their sensitive information is protected while dealing with the website.
Universality
It supports more than 99% of the browsers and most of the mobile browsers. Customers will hardly face any SSL or browser warning while visiting a website.
Secure multiple hostnames at minimal cost
The main goal of the True BusinessID Wildcard certificate is to provide a high level of encryption and authentication for an unlimited hostname on an unlimited number of servers, all with one single certificate.
Bonus
GeoTrust Wildcard certificate secures example.com at free of cost when we order *.example.com
GeoTrust Wildcard Certificate Providers List - Get The Cheapest Price
We bring the most trusted and reliable providers of GeoTrust True BusinessID Wildcard SSL. Here is the collection of coupon codes of those providers which will help you to choose cheap GeoTrust Wildcard.
Conclusion:
True BusinessID Wildcard of GeoTrust is an ideal solution for all big organizations. It is a cost-effective investment for your business, as you can install a Wildcard certificate in all of your sub-domain without any additional cost when you use multiple-server. Many CA has been providing different types of best SSL Certificates to businesses. To survive in the race of best SSL providers the above reseller and hosting providers offer the SSL Certificate at a reduced price.