Thawte Wildcard SSL Certificate Review - Features, Providers & Price
Thawte Wildcard SSL secures a single domain as well as its unlimited Sub-Domains. The certificate works the same as other regular certificates, allowing you to secure connection between your website & your customer's internet browser using 256-bit SSL encrpytion and 2048-bit CSR encryption. It provides full organisation validation therefore it is also known as Thawte SSL Web Server Wildcard. In this information based article, you will find information about top providers list with a price, what features it offers, reasons to go with it.
About Thawte CA:
Thawte certificate authority provides numerous products to the customers according to their requirements. Mark Shuttleworth in South Africa gave birth to Thawte in the year 1995. Thereafter VeriSign acquired Thawte in the year 1999. Thawte was the first Certificate Authority (CA) to issue an SSL Certificate to public entities outside of the United States (US). Thawte was adopted by Symantec and now has become a key member of the Symantec family of trust brands.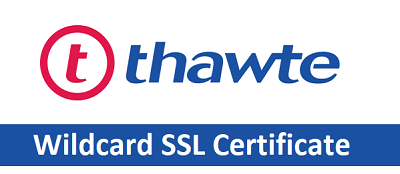 Thawte Wildcard Certificate - Benefits
Thawte® Wildcard SSL is an ideal high-security solution for protecting a Fully Qualified Domain Name (FQDN). You get comprehensive authentication including domain name & organization identity verification. Security Seal provided by Thawte helps to give confidence to customers that they are dealing with a secure site.
Secure your unlimited subdomain over the unlimited server
For example, a single certificate for *.example.com can be used to secure:
https://www.example.com
https://login.example.com
https://mail.example.com
https://download.example.com
https://payments.example.com
https://anything.example.com
Thawte Wildcard Certificate - Key Features
Full Business Validation
It is also known as Organization Validation SSL Certificate (OV) because it validates domain name as well as business name too & displays organization name in the certificate details.
Free Life-time, self-service re-issuance
Thawte Web Server Wildcard provides lifetime free re-issuance therefore you can re-issue it very easily for again experiencing the same comfort zone. Reissues are done for a new private key generation, new CSR, new algorithm update.
Free unlimited server license
Wildcard SSL of Thawte provides a free unlimited Server license. You can add an unlimited server with the help of this Thawte Product.
Easy security solution for both www & non-www domain
It secures both version of the doman whether you have www or non-www domain name.
99.99% browser & mobile compatibility
Thawte SSL Wildcard certificate provides easy & speedy compatibility for a browser as well as mobile so where so ever your site is been viewed user feels secure.
Reason To Choose Thawte SSL Wildcard Certificate
Business Verification
Refund Policy
A Reliable Web Security Solution
Utmost Warranty
Browser compatibility
Top Providers of Thawte Wildcard SSL Certificate with Price
Conclusion:
Moreover, the Thawte SSL Wildcard makes certificate management easy. A single certificate can get you rid of managing multiple certificates for different subdomains. You can manage a single certificate for all your subdomains. If you have decided to go with wildcard certificate for your website security, then this certificate is worth considering an option for your website security. In addition, the above list will help to find the best & cheap providers for subdomains security.