Thawte SSL Certificates Review - Features, Price & Top Providers
Thawte SSL Review will help you in deciding to purchase Thawte SSL Certificates. Thawte CA (certificate Authority) offers a vast collection of SSL certificates that start at affordable prices, the cheapest being offered by many providers for the minimum price a year. Thawte is a reputable SSL authority that has provided good service for many years. It is the first non-US based SSL certificate provider.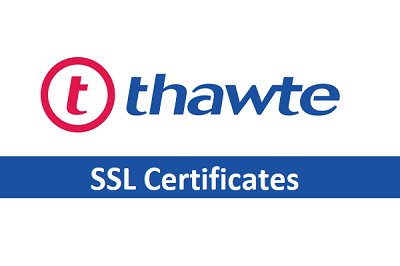 Thawte SSL Certificates - Why should go with it?
What does Thawte offer?
Thawte offers different types of certificates, and these can be chosen to meet your website security needs. Each has their own respective prices and their own differences: the length of time that the certificate is valid for, the validation type, the time to issue the certificate, the certificates warranty, etc.
What features Thawte SSL Certificates offer?
Thawte brings enormous features to the buyer and few of them are listed below:
Trust Seal: Thawte SSL certificates bring trust seal that ascertains users and can be put on the web page. It can be dynamic or static site seal.
Encryption: The certificate that you purchase will come with 256-bit encryption that encrypts traveling information between the server and the browser.
Browser Compatibility: All certificates from Thawte are compatible with almost browsers and servers. The browser will not show any warning when you browse the website.
Reissuance: Thawte product comes with unlimited re-issuance if a private key is missing or need to install the same SSL on a different server.
Money-Back Guarantee: Thawte product comes with 30 days money-back guarantee in case if you do not like the product then you can get a refund.
Which are types of Thawte SSL?
As mentioned above, Thawte offers different types of certificates. The type of certificate you will want depends on the purpose of it. Whether you just need to secure one sole domain or an entire organization with multiple domains and sub-domains.
A Domain Level Validation SSL of Thawte is the most basic certificate that Thawte offer, providing end to end encryption for just one domain name, but also provides a visible padlock in the address bar indicating to site users that the connection, between them and you, is secure. A benefit of this certificate is that it is typically issued to a domain in minutes rather than days like some others.
Thawte Organisation Level Validation SSL certificate allows you to verify the business identity over the web with only a single certificate. However, organizational certificates take longer to authenticate and issue but are typically issued within 2-3 days. The authority verifies domain ownership, business-related documents before issuing a certificate.
Extended Validation SSL certificates of Thawte only secure one domain name but it provides the best security. This certificate displays a green address bar with the showing company name. These typically take 5-6 days to issue as the provider verifies that the person who requested the SSL certificate is who they are claiming to be. The authority checks the third party database for business verification as well as other government registration documents.
Thawte SSL Certificates Product Family
Thawte authority offers a class of products that suits every size of business need. Either it is small, medium or large enterprises:
Thawte SSL123: Thawte SSL123 being a single-domain SSL is in demand in small business units who wants to secure their single domain website and carries a low volume website. It is a domain validation certificate that can take a few minutes in issuance.
SSL Web Server: SSL Web Server of Thawte carries organization validation and assures users that the business identity is verified. It is second level validation and fit for medium-level eCommerce sites and other industries. It comes with many features like 256-bit encryption, warranty, unlimited server licenses, highest browser compatibility.
Code Signing Certificate: This type of certificate is ideal for software developers who want to sign their code with an authenticated certificate in order to remove the warning generally display while downloading illegal software. It assures that the code is not altered since it is signed.
SSL Web Server EV: When you desire for the highest assurance on your website then, SSL Web Server EV helps you and provide the confidence in visitors that they are dealing with a genuine website. The website will have a green address bar with a company name that entices visitors to engage with the website.
SSL Web Server Wildcard: In the case of multiple subdomains' security, Thawte SSL Web Server Wildcard is the best option. For example, *.domain.com can secure domain1.domain.com, domain2.domain.com, domain3.domain.com. You do not need to reissue a certificate while securing subdomain except if subdomains are on different servers.
Thawte SSL Certificates Providers
Thawte works with partner companies, providing official certificate resellers. This allows potential buyers to find a certificate within their budget, and as these resellers are part of the Symantec Security Partner program, the utmost best security can be guaranteed.
Multiple Thawte products review listed below that helps to find Cheap Thawte SSL Certificates providers and assures buyers that their website will have the utmost security.
What about the ease of using and support with Thawte Certificate Authority?
Thawte gives users access to a control panel which allows for the management of current certificates and account information. It allows ease for, and makes, renewing certificates simple and quick. Similarly, Thawte has offices based all around the world, allowing the authority to offer multilingual support to customers, wherever they're from. As well as the ability to contact support through email, phone, and live chat, there is a FAQ center with video tutorials and instructions on setting up and managing your certificates.
Finally, Thawte provides SSL certificates in more than 200+ countries as well the trust seal is transformed into 18 languages to ease users across the globe. Thawte focuses on creating and upgrading SSL certificates. Thawte is a famed brand in the SSL industry that extended its span worldwide with the help of different types of SSL certificates.